Results / Volvo Noble Marine National Championship Dovey YC - 09/07/2015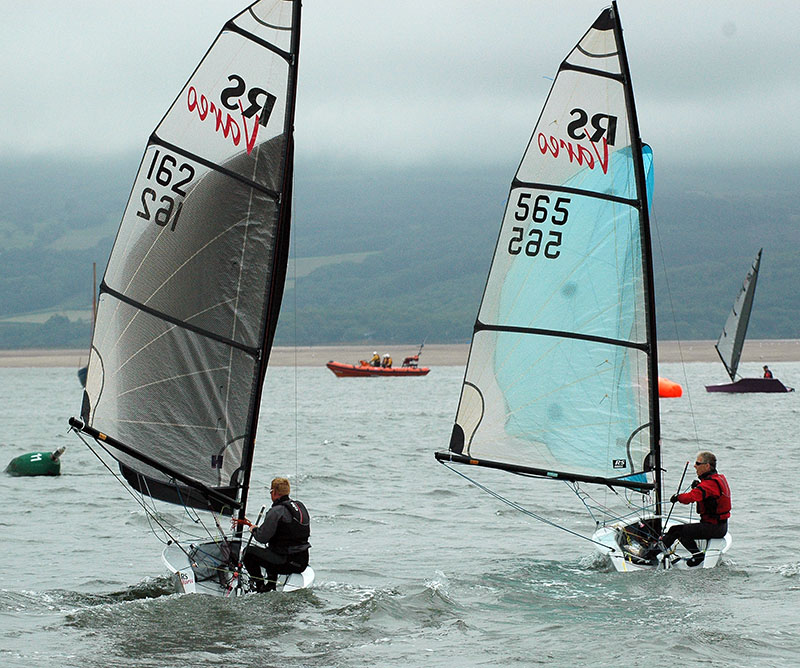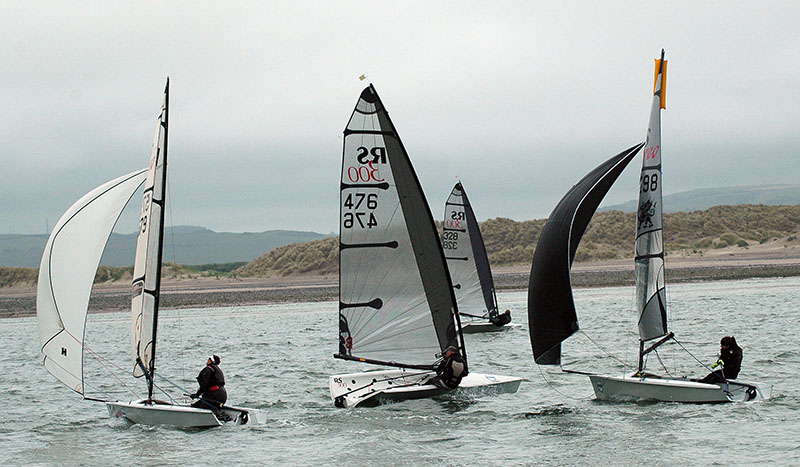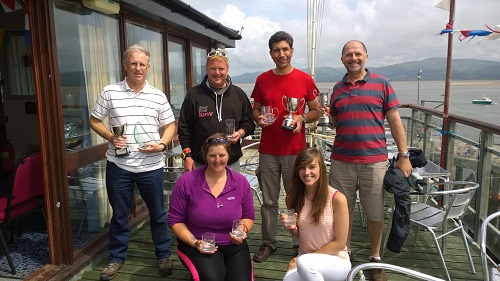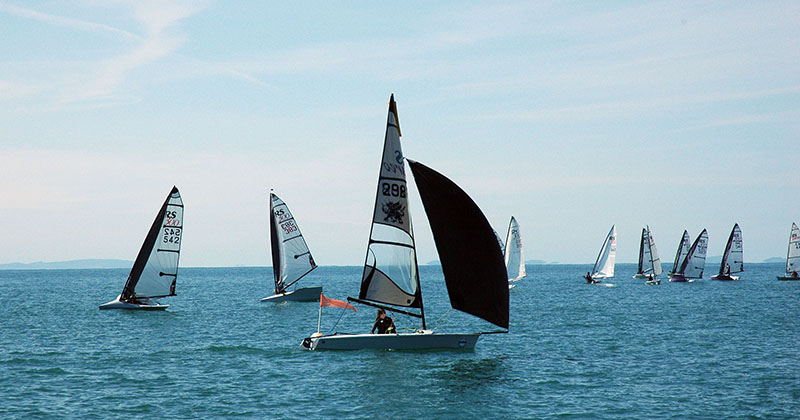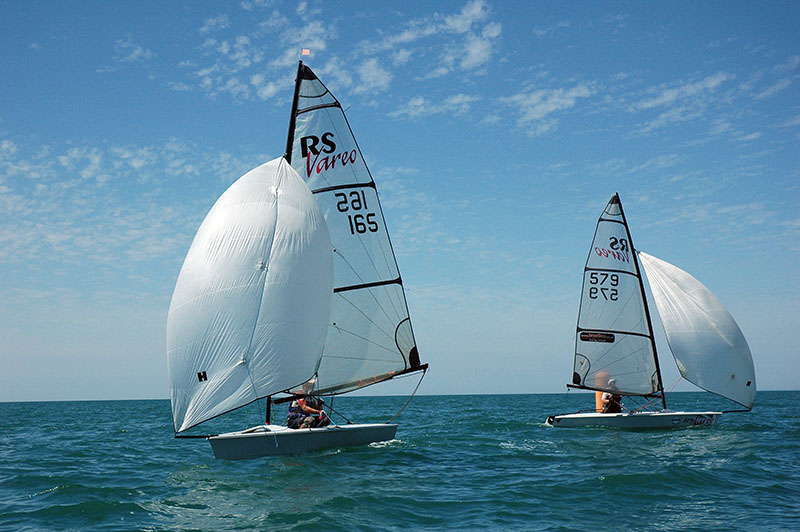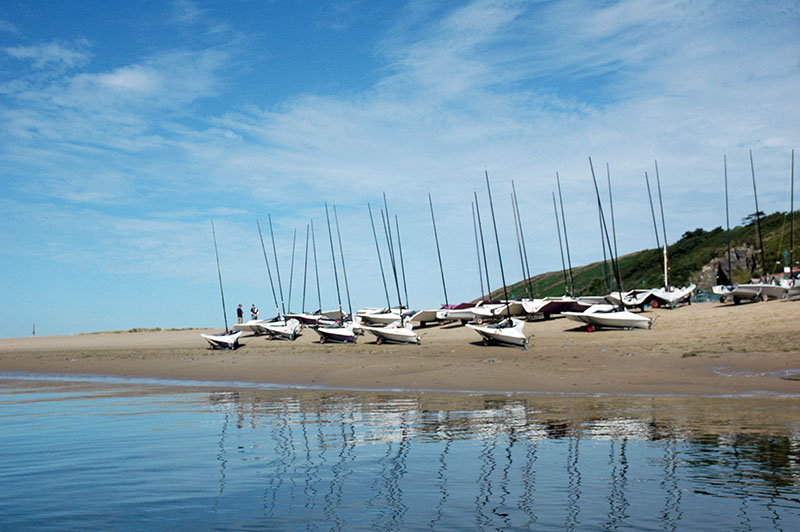 CONGRATULATIONS TO DAVE ACRES 2015 RS300 NATIONAL CHAMPION!

The Volvo Noble Marine RS300 National Championship at Dovey YC drew to a close with two cheeky races in the estuary. Dave Acres secured his top spot with two further bullets, making that a total of 4 race wins. Dave demonstrated top form throughout the week in wind conditions of less than 5 knots right up to well over 25 knots. He discarded just a 6th and a 9th. Last year's Champion Steve Bolland finished closely behind in 2nd place.
See the full RS300 event report and "Runners and Riders The Verdict" below.
CONGRATULATIONS TO NICK CRICKMORE 2015 RS VAREO NATIONAL CHAMPION!
The Volvo Noble Marine RS Vareo National Championship at Dovey YC drew to a close with two cheeky races in the estuary. Nick Crickmore neatly rounded off the championship with two more race wins, making a total of 4 bullets. Consistency and steadiness across all wind conditions on both the sea and in the estuary were key to Nick's success. He discarded just a 3rd and a 5th. Second place goes to Matt Yallop who was last year's Champion.
See the full RS Vareo event report with all the prize winners below. Paul North has also written a great event report from the point of view of a normal happy club sailor, not a national champion. Paul's report is posted below Nick's. Click here for the link to some fun video footage Paul took.
Event summary:
Day one Thurs 9 July 29 RS300s and 7 RS Vareos battled it out in two frustratingly light wind races. Day two Fri 10 July the fleets sailed three races in beautiful sunshine but equally light and difficult wind conditions.
Day three shall be named "Big Saturday". The RS300s sailed 3 races: one over the bar in the bay and 2 in the estuary, awesome waves, lumpy sea, mighty breeze = yee hah! The RS Vareos sailed one race.
Day four: grey skies and cheeky breeze for 2 races in the estuary.
The photos are all new again today: super racing shots by Doris O'Keefe, party shot thanks to Declan Clamp.
Results thanks to Dovey YC.
Click on your fleet and report title here to be taken straight to the report:
RS300 Day One Report by Steve Bolland
RS300 Overall Event Report by Steve Bolland
RS300 Runners and Riders The Verdict by Pete Ellis
RS Vareo Overall Event Report by Nick Crickmore
RS Vareo My Nationals Report by Paul North
'Love is all around us' as Wet Wet Wet would have us believe. That's not right, sorry, 'It's written in the wind' is more like it. If it had been life would have been a whole lot easier as, for once, the forecast was bang on for Day 1 of the Volvo Noble Marine RS300 National Championship in Aberdovey.
To be honest, other than the sun, the forecast was rubbish, 7-8 knots from the West, South and North. An hour and a half postponement and two general recalls didn't help calm the nerves but once race 1 was under way it wasn't too bad. Honestly. Matt Jenkins actually couldn't believe how steady the breeze was but then he normally sails at Sheffield Viking. He basically sailed into the distance over the shortened one lap race ahead of light air flyer Alistair 'Storky' McLaughlin from Prestwick. Steve Bolland (Bristol Corinthian) and Steve Sallis (Hykeham) had a ding dong for 3rd place with Bolland just sneaking it.
And that was it for day 1. Surely. The Race Officer had other ideas, however. I can only think his anen anemo anonem wind speed indicator was stuck on 5 knots so race 2 was on. Mike Bees (Brightlingsea) and Pert Ellis (Stewartby) port tacked the fleet and were gone. In actuality, you were in the lap of the gods as to where the wind would strike. At one moment you could be smiled on and in another... Matt Jenkins had a massive lead at the first mark again. Was he Mother Theresa in a previous life the way the gods were smiling?
And then it got really tricky as what wind there was switched off altogether down the run and then turned inside out making the last reach a beat. Jenkins hung on, but wait, he must have a darker side we don't know about, as he crossed the line to silence – blackflagged. The video evidence was both damning and conclusive. Sam Knight (Bartley) thus took the win from Ellis, Sallis and Tim Keen (Sheffield Viking).
Sallis leads overall after day 1 from McLaughlin and Knight but it's a high-scoring leaderboard with consistency hard to achieve. Without really looking I imagine that Hykeham are leading the team trophy while Ellis leads the Fidelis and Masters divisions.
Champagne moment of the day, and winning a bottle of bubbly for his efforts, was Bees' port tack flyer in race 2. Wooden spoon moments were more numerous but included Sallis trying to wreck his boat coming back in over the bar and Matt Sargent (Army SA & Thorney Island) tipping it in on the run. Sympathy vote from the fleet goes to Jenkins as although 'There's no beginning and there'll be no end' it at least proves that love really is all around us.
The wind is already looking better for day 2, but it's coming from the wrong direction...
Volvo Noble Marine RS300 Nationals Overall
It's Monday morning and we ache all over, so that means we had a great championship, right? After a couple of light days to start off we finished with a couple of big ones in the Volvo Noble Marine RS300 National Championship, also sponsored by The Boatyard at Beer, hosted by Dovey YC in mid Wales.
Saturday was immense in all senses of the word. One race in Cardigan Bay in 25 knots and huge seas followed by two further races in the estuary with, again, huge waves near the windward mark caused by wind against ripping tide. Steve Bolland (Bristol Corinthian) had a good day to narrow the points difference to Dave Acres (Thorney Island/Emsworth) to only two points at the top of leaderboard ahead of the final two races scheduled for the last day.
The evening was immense too with the Jenny Stevens Band and the mast of disaster taking over from the boom of doom as the drinking aid of choice. This kept the bulk of the fleet occupied until the small hours and, in some cases, to the quite large hours too. Acres and Bolland, with a championship to fight for, sneaked off early at 2am...
On Sunday the racing was once again restricted to the estuary for the final races. With a rapidly ebbing tide and restricted space there was little room for error. In the penultimate race Acres, sailing coolly under pressure and making most effective use of the tide, extricated himself from an average start to lead at the windward mark from Matt Jenkins (Sheffield Viking), Pete Ellis (Stewartby) and Bolland. With Acres taking the win and Bolland only managing a 3rd all was looking rosy for Acres going into the final race with a four point cushion.
Things got rosier still in the final race when Bolland broke his rudder downhaul following a collision with a sandbank cunningly disguised as a patch of water. With Bolland gone Acres sailed serenely to another race win and the championship, finishing ahead of Jenkins and Tim Keen (Sheffield Viking) in the final race. Special mention must go to Declan Clamp, newcomer to the fleet this season, who thought he had his moment of glory when he bore off around the windward mark with a nice lead in the final race, only to see everyone else carry on upwind to the proper mark. He won the week's wooden spoon for that one.
Thanks to everyone at Dovey YC, in particular Race Officer Rupert Tildesley, for putting on a magnificent championship and also to the generous sponsors – Volvo, Noble Marine and The Boatyard at Beer.
Next year's Nationals are at Exe SC 8-11 September 2016. The next RS300 event is a double-header at Attenborough and Bartley SCs on 12/13 September. Go to the RS300 website for all the event information: www.RS300sailing.org
Prizewinners
Apprentice (competing in their first RS300 Nationals) – Sam Knight
Lightweight (helm under 75kg) – Steve Sallis
Master (old guy) – Mike Bees
Fidelis (having competed in at least 3 previous championships) – Neil Beveridge
Silver fleet – Andy Bayliss
Under 25s – Ben Green
Biggest improver – Alistair McLaughlin (from 29th last year to 16th)
Top buddies – Steve Sallis & Matt Jenkins
Top club – Hykeham SC
RS300 Runners and Rider – The Verdict
by Pete Ellis

Following the successful completion of the Volvo Noble Marine RS300 Nationals in beautiful Aberdovey last week see what really happened throughout the fleet with "Runners and Riders – The Verdict"

In overall finishing order:

480 - Dave 'Windy' Acres (Emsworth). Chuckle Brother No 1 lived up to his billing by taking a well deserved win in varied conditions, dominating the last 3 days. Match-Raced Sleazy in the bar on Saturday night to take his second title, this time an away win.

411 - Steve 'Sleazy' Bolland (Bristol Corinthian). Chuckle Brother No 2 now has to lick his wounds and be pleasant to the family on holiday. Will be looking for revenge at Exe in 2016 – being almost local odds on the crafty fella will be down there practising early next year.

323 - Matt 'Pin End' Jenkins (Sheffield Viking). Rejected the once in a lifetime opportunity to take a port tack flyer, but shrugged off the millstone of a black flag from race 2 to pull together a typical Mr Consistent series. Shock- horror black flag at an RS300 event – you would have thought it was a RS200 nationals.

476 - Steve Sallis (Hykeham). Only once out of the top 10 – threatening to take the Mr Consistent tag for next year. Retained his Lightweight trophy and spearheaded the successful Hykeham team to win the club championship. Was even spotted not being last off the beach!

335 - Sam Knight (Bartley). Tipped for the Apprentice trophy and did not fail to deliver. True his best performances were on the lighter days, but quick enough in the heavy stuff to secure 5th at his first nationals – future champion in the making. Thanks to Sarah for all the support.

328 - Tim 'The Traveller' Keen (Sheffield Viking). Heard to say "that'll be t'discard" on every day. Alas Timbo only 2 discards allowed so your inconsistency cost you dear – or is it time for a new boat to achieve that elusive first championship win? Nailed on Wooden Spoon winner for ordering the wrong colour hoodies and trying to cover it up before Declan's day 4 antics.

520 - Mike 'Bionic' Bees (Brightlingsea). Top Master. Even managed to capsize at the first gybe mark of race 5, lodge his burgee in Sleazy's buoyancy aid and still come storming back to win. Crossed the fleet on a port tack flyer to win the champagne moment on day 1.

416 - Neil 'Bevs' Beveridge (Prestwick). Spent all week desperately avoiding any potential wooden spoon antics – top Prestwick boat.

500 - 'Two Pint' Pete Ellis (Stewartby). Forward gears at last in tune to post several top 5 results. Now needs to fit more stabilising technology on the runs, capsizing on the penultimate leg of each race on day 3 cost him dear. What was that 27th all about?

524 - Matt 'The Major' Sargent (Thorney Island). Perhaps not Matt's best regatta, suffering on the lighter days. Saved his best for Saturday night duetting with the Jenny Stevens band – new found skills Matt.

518 – Luke 'Mr Go-Pro' Pepper (Hykeham). As predicted, a massive 7 place improvement in overall position. Would have captured day 3 in glorious HD if he had managed to turn his go-pro on.

419 - Luke Ridout (Christchurch). Don't get sick in Christchurch – this highly trained medic is lethal with a safety knife but a dab hand with superglue to repair his severed finger. Revelled in the wind, (see his twin below). Thanks to Becky for all your assistance ashore.

383 - Stu Hopson (Shotwick). How do you learn to sail an RS300 in wind and waves on a lake of only 36 acres? No idea, but Stu has managed to tame the beast fairly rapidly and can only get quicker. Introduced the future Mrs Hopson and in-laws to the Saturday night party – brave lad.

321 - Andy Bayliss (Hykeham). Unselfishly heeded team orders to retire in race 2 to ensure Luke Pepper could qualify for the Hykeham team, then showed the rest of the fleet up with some cracking results to win the Silver Fleet.

426 - Richard LeMare (Bartley). Added purple rudder to his boat locker. But actually more of his purple kit was seen as spares on other boats as the week wore on.

490 – Alistair 'Storky' McClaughlin (Prestwick). A new lease of life for the old campaigner. Some stunning results on the first two days but predictably tired in the wind. Managed to finish 8 races which is a massive increase on the norm and earned him the best improver award if we had remembered to present it at the prize giving. Well you forgot to bring your RS300 T-shirt, so we forgot to present you with another one.

374 - Tom 'Team Racer' Whitehead (Prestwick). Tom has been working out and is now quick in the windies as well as the light stuff. Foolishly tried to call for water when the inside boat and on starboard – whatever next.

542 - Chris Bridle (Hykeham) We watched with interest. Very quick in the lighter stuff and nailed on as Silver Fleet winner until it blew and blew Chris away. Don't be surprised to see Chris back and quicker in all breezes after a year's schooling at Hykeham.

503 - Dave 'Desperate Dan' Sinclair (Prestwick). No gear failure this year but no luck either – big guys shouldn't be required to sail an RS300 in light airs. Desperately looking for a windy nationals with a fully functioning boat.

425 - Chris Gandy (Draycote). The reunification of the Ridout/Gandy twins separated at birth was completed by them becoming team buddies after day 1. Also revelled in the strong stuff with three top 10s on windy Saturday.

422 – Alastair 'Woody' Wood (Bough Beech). Arrived early to watch the Chancellor's budget speech, spurning the opportunity to go out and practice. Volunteer early path-finder back home through the breaking waves on Saturday only to capsize several times and watch the fleet cheerily sail past without any offer of assistance (we were too busy trying to stay upright Woody - honest).

336 - Mark Taylor (Prestwick). 22nd – exactly the same as last year. Was all that practice around the country in vain or did Mark maintain his position one year older – take your pick.

313 - Ben Green (Highcliffe). Never gives up, reputedly capsized 25 times on the windiest day but still finished. That tenacity deserves a medal which was duly awarded as top youth in the expanded under 23 age limit.

393 - Chris 'Blogtastic' Arnell (Christchurch). Most active boat bimbler with added minions to provide moral support. Very ably assisted by Ela who did a sterling effort on the beach and also salvaging runaway RS Vareos – was it worth it Ela?

342 - Ian 'Dopey' Hopkins (Southport). On his own this year and better behaved. Supplier of the "mast of disaster" after Saturday's antics. Where did that top 10 come from in race 2 Ian?

332 - Declan Clamp (Lymington). What an impact the Court Jester made at his first Nationals – pity none of it was on the racetrack. If he wasn't capsizing on the committee boat, repairing boat leaks or orchestrating the "mast of disaster", Dec was deservedly winning the wooden spoon for going to the wrong windward mark in race 10. No excuse - we sailed the same course in race 9 just 30 mins earlier – Muppet.

426 - Jimmy Ruddiman (Glossop). Glam tin tenting in £48k's worth of demo camper van out on a test drive for 5 days. Will be pleased with a 13th in race 9 to show what can be achieved.

318 - Gary Morris (South Cerney). Proved once again that a well driven A rig can compete with the bigger boys even in the lighter winds. Had to leave early so missed the heavy weather racing, missing the opportunity to demonstrate his reefing techniques.

508 – Alan 'The Don' Sinclair (Prestwick). Suffered in the light stuff and the heavy, but like Bionic Bees due to be repaired with a new hip this year to come out fighting in 2016 - best wishes Alan.
RS Vareo Nationals Overall Event Report
Thursday – Day 1
Race 1 - After two hours of sailing to the race course in the open sea and waiting for the RS300s to start under black flag the RS Vareos raced their customary windward leeward course in light shifty breeze race. Race ne was won by last year's National Champ Matt Yallop with Andy Howard 2nd and Paul North 3rd.
Race 2 - Nick Crickmore showed his colours with Paul 2nd and Andy third. Nick got a significant lead on the beat due to a nice shift in the wind strength on the right hand side of the beat. Leading results from day one: Andy and Paul joint leaders with 5 points each.
Friday – Day 2
More light winds outside the bar.
Race 3 had the steadiest wind of the day allowing completion of 2 full laps with Nick keeping close cover over Matt most of the way round to take first again. Andy never far behind got third.
Race 4 started in more wind during which Matt got away. Andy excelled as the wind dropped to get ahead of Nick but did not manage to catch Matt who took the win. Andy was third again.
Race 5 less wind made it difficult to progress against the short chop upwind with Matt / Andy / Nick finishing order again. Matt was overnight leader with 8 points, Nick and Andy both with 10 points following.
Saturday – Day 3
Massive waves and wind encountered outside the bar today.
Race 6 – Cheryl Wood found good speed to lead at the windward mark from Matt and Nick. Offwind Cheryl took a deeper course with spinnaker and Matt went higher with his to try to take the lead, but got swallowed by the ocean attempting to gybe. This sobered the others into stowing their spinnakers for the remainder of the run (and the second run later). Nick looked set to pass Cheryl when she capsized upwind but she retained her lead due to a speedy recovery and took the Race 6 win, with Nick the only other finisher. With numerous breakages including Cheryl's boom shortly after finishing the Race Officer directed the fleet ashore after the one race. The RS Vareos packed away for the day not realising potential for further racing in the estuary later. Cheryl back in contention!
Sunday – Day 4
With no improvement to conditions outside the bar, 2 races took place in the estuary.
The competition was getting intense with the normally well behaved fleet being to subjected to a black flag.
Race 7 - over 3 laps with Matt showing good speed upwind but Nick regaining the lead on the runs and Andy never far away, Nick took a small lead towards the end to win with Matt just regaining 2nd from Andy on the line.
Race 8 - Nick and Matt playing winner takes all - Matt got to the windward first with Nick sandwiched between Cheryl and Andy behind. Nick gybed off and managed to regain a close 2nd to Matt for the second beat for a gybing duel for the trophy. Matt pushed far right for the final split but found some rocks to put him over allowing Andy, Cheryl and Chelsea to pass and Nick to win the final race of the event making Nick Crickmore the Volvo Noble Marine RS Vareo National Champion 2015.
Thanks to everyone at Dovey YC, in particular Race Officer Rupert Tildesley, for putting on a great championship and also to the generous sponsors Volvo and Noble Marine.
Next year's Nationals are at Llandegfedd SC 27-29 Aug 2016. The next RS Vareo event is the RS Vareo Gul Inland Championship at Llandegfedd SC 19-20 Sept 2015. This event will include the Bart's Bash race!
Report by Nick Crickmore
Prize winners:
National Champion: Nick Crickmore
Master: Paul North
Grand Master and Concessional: Andy Howard
Apprentice (competing in their first RS Vareo Nationals): Chelsea Jackson
1st Lady: Cheryl Wood
Fidelis (having competed in at least 3 previous RS Vareo National Championships): Nick Crickmore
Special mention must be made of Chris Coll who only started sailing this year.
My RS Vareo Nationals by Paul North
Having dipped my toe in for one day at last year's Nationals at Grafham (only 40 minutes up the road, so easy to get to – I came 8th of 8!) I was keen to enter this year, especially when I heard it was at Aberdovey which is such a beautiful location.
I've had my RS Vareo for about 20 months and chose it because of the huge fun it provides while being pretty stable. I'm a member at Milton Keynes Sailing Club so usually sail on a small ex-gravel pit with a usable area of about 250m x 450m. We race "around the cans" and it's not often I can get a decent stretch with the spinnaker but it's so enjoyable when I do! I'm a very average sailor, gradually improving, aged 54.
My goals for the Nationals were:
Have fun and enjoy 4 days of sailing on the sea with lots of space to use the spinnaker.
Learn from the rest of the fleet about boat set-up, sailing techniques etc. Until 2 weeks ago I was the only RS Vareo sailor at our club.
Get re-acquainted with the people I met last year.
Try to get the spinnaker up and down without something wrapped around me or jammed under my feet!
The event was combined with the RS300 Nationals and sponsored by Volvo and Noble Marine. Volvo held a raffle to provide 4 sailors with a car for the event and I was lucky enough to be one of the winners. A beautiful big blue XC60 with all the toys was delivered to me on the Tuesday before the event with a tow bar and full tank of fuel. The delivery man took me through all the controls and it was ours until collected on Monday after we returned home. My wife, Moira, and daughter, Emma (22), came with me and Moira fell in love with the car!
With a 200 mile journey we travelled on Wednesday and following a beautiful drive through the mountains arrived at Dovey Yacht Club around 3pm. We were efficiently shown where to park the boat and registered our arrival, receiving a big pack of sailing instructions and other info, together with some tourist info for the family. I also received a numbered band for my trolley so that I could just shout out "thirty one" to the beach team and my trolley would appear for me – great system. Most people arriving that afternoon (including me) declined the opportunity of a "shake out sail" in the estuary as there was a pretty stiff wind blowing.
We checked into our accommodation at the Dovey Inn (across the road from the boat park) and I rigged the mast ready for the following day. Several of the other RS Vareo sailors arrived that afternoon: some I knew, some new faces.
The original forecast of a cold and dull Thursday dawned instead as a beautiful almost cloudless sky and a light breeze, the temperature eventually rising into the low 20s. I finished rigging the boat and chatted with the rest of the fleet as they arrived through the morning. We ended up with 7 in the fleet after Nick Crickmore made a very last minute decision to attend and registered on the day (turned out to be a good decision as he went on to win!).
There was a short briefing by the race officer at 12.30 then we were ready to change and get onto the water. The racing was to be held "over the bar" beyond the entrance to the estuary in open sea. When asked how long it would take to get to the start line, the estimate was given as around half an hour depending on wind and tide (but that they would wait for stragglers before starting the racing).
At 13.00 the horn sounded as flag Z was raised on the yacht club (I now know what flag Z looks like). This was our permission to launch and to inform us that racing would start in no less than 60 minutes. It was very exciting launching the boat amongst 6 other RSVareos and 29 x RS300s. A team of trolley dollies quickly removed the trollies and we began the long sail out to the start. With the tide coming in and the wind against, it seemed best to tack close to shore rather than go out into the stream but it was SLOW. By the official start time of 2pm for race 1, most of the fleet was still a long way off! In the end it took around 2 hours to get to the start. Once there, a light breeze was blowing and I had time to have a quick practice getting the spinnaker up and down while we waited for the last of the fleet to arrive.
The RS300s started ahead of us so we kept out of their way as they went through their 5 minutes procedure only to have to wait again following a general recall – twice! We all cheered when they got away third time and it was our turn. I had a reasonable start and in the light winds we quickly spread out across the course. Competition courses for RS Vareos are simply upwind then downwind – you beat to a buoy on the horizon (it seemed a long way!), round the buoy leaving it to port, hoist the spinnaker then zig zag downwind to a pair of buoys marking the leeward gate. On the last lap having passed through the gate there is a dog-leg to port to cross the finish line.
After a long slow beat with several tacks I somehow I managed to get to the windward mark in third place just behind Cheryl with Matt (last year's winner) well in the lead. The safety boat at the mark informed us the course was shortened to 1 lap so we would finish after the downwind leg. I hoisted the spinnaker and set off after Cheryl trying to work out the best tack to be on. It was close as we approached the gate and I was so busy looking at her that I didn't see Andy sneak by on the inside to take 2nd from us. The wind had more or less died and I decided to drop the spinnaker as it was hindering more than helping and crossed the line about a yard in front of Cheryl to take 3rd – I was stunned!!
Following a short break race 2 was on. I decided my tactic in this race would be to watch what happened at the RS300 start and copy them!! This time they were away first time and after only a very short distance sailing on starboard tack most of the fleet tacked and headed off to the right side of the course – so that became my plan, they must know what they're doing I thought!
I didn't have a great start (must practise that) I quickly tacked and headed off to the right, Nick joined me and I think Andy a little later but the rest of the fleet carried on out left as far as I could see. I arrived at the windward mark in second behind Nick and again we were told the course was shortened. With the spinnaker hoisted I followed Nick down the course and looking over my shoulder once again saw Andy sailing a more direct route and gaining. This time the wind held up and I managed to hold on to second place. And that was then end of the day's racing. We headed for home but the wind dropped even more and it was long and slow trip back to the beach. With about 200 yards to go I was called by my daughter who was walking along the estuary and was going faster than I was! We finally arrived around 7pm (which should have been dinner time). The boat was quickly put in the park and covered, then after a quick shower and change we headed to the yacht club for dinner and a quiz.
Heading back to the B&B we stopped by the results board and I was astounded to see I was the leader as the winner of each race had come 5th in the other. I have a photo of that sheet and will treasure it!
We awoke on Friday to another beautiful day and had the boat rigged and ready on the beach for the hooter and Z flag at 11 releasing us for the racing to start at 12. With the breeze and tide a little more favourable we got out to the race area in better time but just as I arrived the horn sounded two blasts and a red and white striped pennant flag was raised on the committee boat. I had no idea what this meant but guessed because of the groans from other sailors around me. I asked the nearest who confirmed it meant racing was postponed until the wind strength increased. An hour later and the wind was much better and strengthening so racing commenced. This time the beat was into stronger winds and I found it harder going! I got to the windward mark in 5th then hoisted the spinnaker. Sailing down the wind in an increasing swell was great fun with lots of little moments of surfing down the front of a wave. Halfway down the leg I was overtaken by Chelsea who although she was sailing with the storm sail had a significant weight advantage downwind being so light. (This I discovered chatting to the others that evening, on the water I couldn't understand what I was doing wrong!) I regained 5th on the beat and managed to hold on during the second downwind leg and across the line although it was close with Chelsea catching me all the time.
The second race of the day (race 4) was pretty much a repeat of the 2nd. By the time we started the final race the wind was again dropping and this time Chelsea beat me to the windward mark leaving me in 6th at the turn. I knew I would be unable to catch her if I followed so gybed and headed down the other tack in the faint hope that a wind shift might give me the advantage – no chance! So I finished the day with 5, 5, 6 and was lying 4th overall at the halfway stage, just a point in front of Cheryl.
That night the rain came and went, Saturday dawned with a hefty breeze blowing from the West under grey skies. We were changed and ready for the Z flag just before 11 when the news came that there would be a delay. With the tide still ebbing and wind blowing strongly in the other direction the usual gap over the sand bar was filled with breaking waves and "chop" and we couldn't get out to the race area. A 45 minute delay was announced while we waited for conditions to improve. Things had not improved enough so a further hour delay was announced. The wind was backing a little towards the South West but still blowing strong. We ate some lunch then the release was given and we headed for the beach.
Once again we were battling against the tide but this time into a strong wind as well and it was hard work to make progress up the estuary towards the sea. Once near the bar the waves were really building and I had a very exciting time powering over 4 to 6 footers and tacking in between. By this time I was at the back of the fleet heading for the start and later discovered that 2 of the other RS Vareos had tacked back and forth across the estuary but decided it was too hard to make progress and retired. I made it over the bar but had to retire before getting to the start following 3 capsizes and a damaged mast. Only one race was completed in really punishing conditions and only Cheryl and Nick of the RS Vareo fleet managed to complete the course! Racing was then abandoned and the fleet sailed home. I later learned that the wind was blowing 25 knots over the committee boat.
That night was party night in the yacht club. Following an excellent lasagne and sticky toffee pudding a local band provided entertainment and I understand that drinking and merriment wen on into the small hours with the RS Vareo fleet holding their own in the yard of ale drinking!! Me? I went to bed soon after 10 and slept like a baby!!
Sadly my boat was not repairable at the event so I was unable to sail on Sunday. With the wind still blowing well (but not as strong as Saturday) 2 races were held inside the bar in the diminishing estuary as the tide went out. Nick sailed well winning both races and took the title.
Once the racing was finished and boats mostly packed up there was a short trophy ceremony in the bar of the club house. Despite failing to score in 3 races, with 2 discards from the 8 results I finished in 5th place and won the Masters trophy for 1st helm over 50 – amazing!!
My huge thanks to the rest of RS Vareo fleet, Nick, Matt, Andy, Cheryl, Chelsea and Chris. There was a great feeling of camaraderie and the help and support being offered by everyone was fantastic. I now know about some things to tweak on my boat, I know some better ways to sail and have some new friends who I'm looking forward to sailing with next year.
Also, thanks to all at Dovey Yacht Club who put on a great event and looked after us very well.
The RS Vareo is a great boat and I thoroughly enjoyed sailing with others on a big piece of water with waves! If you sail an RS Vareo please come to some of the events next year, and if you can only make one, come to the Nationals which are at Llandegfedd Sailing Club in South Wales 27-29 Aug 2016. See you there.
Paul North, RS Vareo 443
RS300 Final Results
10 races sailed, 2 discards
Pos
Helm
Sailing Club
Class
Sail no.

Race 1
Race 2
Race 3
Race 4
Race 5
Race 6
Race 7
Race 8
Race 9
Race 10
Gross
Net
1
Dave Acres
Thorney Island Emsworth
RS 300
480
6
5
1
1
2
2
4
9
1
1
32
17
2
Steve Bolland
Bristol Corinthian SC
RS 300
411
3
7
2
11
3
1
30
1
3
30
91
31
3
Matt Jenkins
Sheffield Viking SC
RS 300
323
1
30
3
8
9
16
1
11
2
2
83
37
4
Steve Sallis
Hykeham SC
RS 300
476
4
3
5
12
5
6
7
3
7
30
82
40
5
Sam Knight
Bartley SC
RS 300
335
9
1
7
3
6
19
6
12
8
5
76
45
6
Tim Keen
Sheffield Viking SC/Nefyn SC
RS 300
328
12
4
8
7
16
14
2
16
6
3
88
56
7
Mike Bees
Brightlingsea SC
RS 300
520
11
11
4
2
1
9
30
30
10
11
119
59
8
Neil Beveridge
Prestwick SC
RS 300
416
5
15
14
18
18
7
3
7
9
10
106
70
9
Pete Ellis
Stewartby Watersports Club
RS 300
500
14
2
16
27
8
5
13
18
4
9
116
71
10
Matt Sargent
ASA Thorney Island SC
RS 300
524
22
24
12
13
23
3
11
5
11
4
128
81
11
Luke Pepper
Hykeham SC
RS 300
518
18
16
11
5
13
12
15
30
5
7
132
84
12
Luke Ridout
Christchurch SC
RS 300
419
10
9
19
25
21
8
5
6
16
13
132
86
13
Stuart Hopson
Shotwick Lake
RS 300
383
15
12
6
22
12
13
8
14
17
6
125
86
14
Andy Bayliss
Hykeham SC
RS 300
321
7
30
21
19
10
17
10
4
14
14
146
95
15
Richard Le Mare
Bartley SC
RS 300
540
16
14
17
16
17
10
30
2
15
8
145
98
16
Alistair McLaughlin
Prestwick SC
RS 300
490
2
6
18
9
7
22
30
30
23
12
159
99
17
Thomas Whitehead
Prestwick SC
RS 300
374
13
30
9
6
11
15
19
15
12
30
160
100
18
Chris Bridle
Hykeham SC
RS 300
542
8
19
10
4
4
18
30
30
30
30
183
123
19
Dave Sinclair
Prestwick SC
RS 300
503
30
23
15
15
22
11
12
10
21
18
177
124
20
Chris Gandy
Draycote Water SC
RS 300
425
24
20
26
26
25
4
9
8
22
17
181
129
21
Alastair Wood
Bough Beech SC
RS 300
422
19
10
25
10
15
30
30
30
20
15
204
144
22
Mark Taylor
Prestwick SC
RS 300
336
23
22
22
20
20
21
14
13
19
16
190
145
23
Ben Green
Highcliffe SC
RS 300
313
25
21
24
17
19
23
16
30
18
19
212
157
24
Chris Arnell
Christchurch SC
RS 300
393
17
13
13
14
14
30
30
30
30
30
221
161
25
Ian Hopkins
Southport SC
RS 300
342
26
8
28
28
27
30
18
17
24
20
226
168
26
Declan Clamp
Lymington Town SC
RS 300
341
21
18
23
21
30
20
17
30
25
30
235
175
27
James Ruddiman
Glossop SC
RS 300
426
27
30
20
23
24
30
30
30
13
30
257
197
28
Gary Morris
South Cerney SC
RS 300
318
20
17
27
24
26
30
30
30
30
30
264
204
29
Alan Sinclair
Prestwick SC
RS 300
508
28
30
30
29
28
30
30
30
30
30
295
235
RS Vareo Final Results

8 races sailed, 2 discards

Pos
Helm
Sailing Club
Class
Sail no.

Race 1
Race 2
Race 3
Race 4
Race 5
Race 6
Race 7
Race 8
Gross
Net
1
Nick Crickmore
Waveney & Oulton Broad SC
RS Vareo
165
5
1
1
3
3
2
1
1
17
9
2
Matt Yallop
Middle Nene SC
RS Vareo
162
1
5
2
1
1
8
2
5
25
12
3
Andy Howard
Llandegfedd SC
RS Vareo
565
2
3
3
2
2
8
3
2
25
14
4
Cheryl Wood
Pennine SC
RS Vareo
579
4
6
4
4
4
1
5
3
31
20
5
Paul North
Milton Keynes SC
RS Vareo
443
3
2
5
5
6
8
8
8
45
29
6
Chelsea Jackson
Llyn Brenig SC
RS Vareo
298
6
4
6
6
5
8
4
4
43
29
7
Chris Coll
Olton Mere SC
RS Vareo
266
7
7
7
7
7
8
6
6
55
40