Results / Harken RS End of Seasons Regatta Rutland SC - 06/11/2021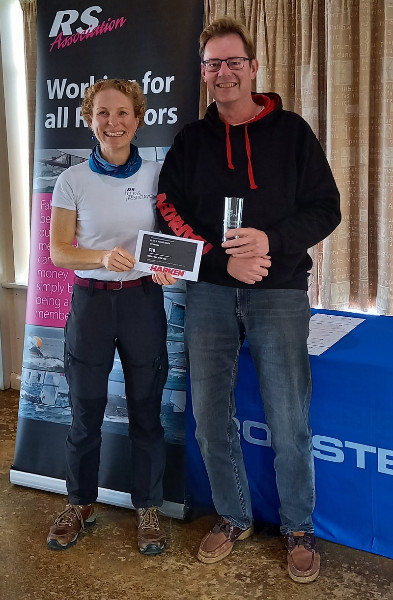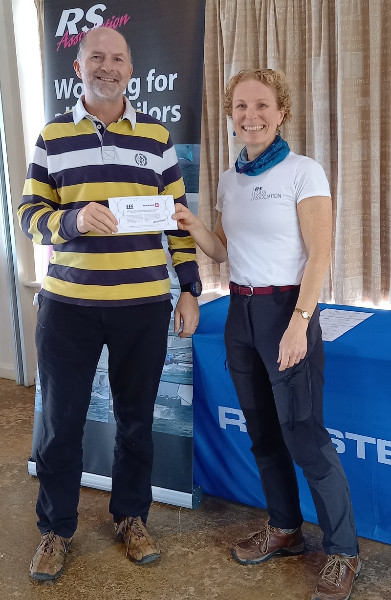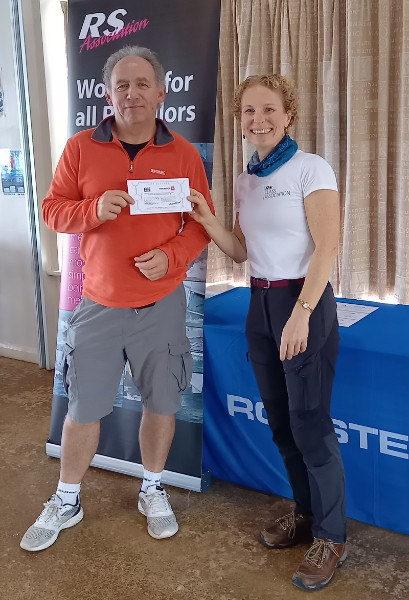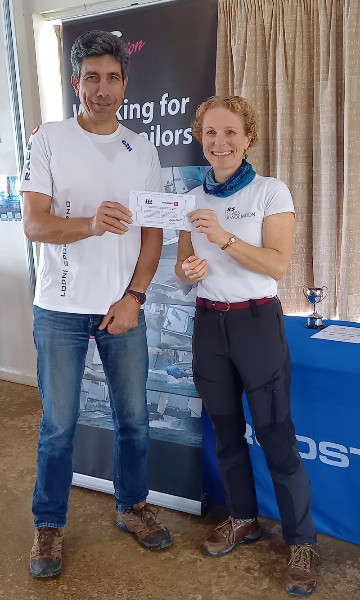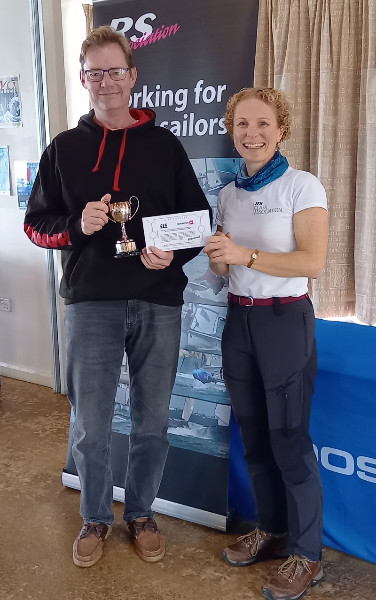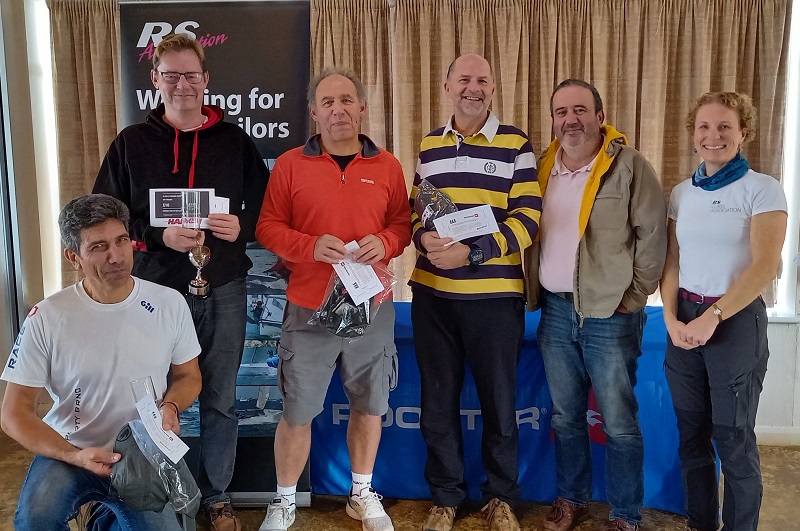 A great Harken RS End of Seasons Regatta - thank you Rutland SC and thank you Harken!
Congratulations to our hardy sailors for battling such strong wind and sharp chop
Our champions hall of fame for 2021:
RS200 from East Lothian YC Brendan Lynch and Ellen Clark
RS300 from Draycote WSC Harry McVicar
RS400 from Stokes Bay SC Steve and Sarah Cockerill
RS500 from ASA TISC Simon Horsfield and Katie Burridge
RS600 from Bough Beech SC George Smith
RS800 from HISC Tom Morris and Guy Fillmore
RS Vareo from Emberton Park SC Luke Fisher
Tim Olin took awesome photos on Sunday and has published his full gallery for us to view here
Click on fleet name to be taken directly to that event report:
RS200 report by James Mawson
RS300 report by Sam Davy and photos from his Dad
RS400 report by Jon Heissig
RS500 report by Hugh Watson
RS600 report by Mike Iszatt
RS800 report by Luke McEwen
RS Vareo report by Paul North
Harken RS200 End of Seasons Regatta at Rutland SC 6-7 Nov 21
Prior to the Harken RS End of Seasons everyone knew it was going to be a windy one. Sure enough upon arrival on Saturday morning the breeze was up and building but thankfully the sun was out too. After a short-fast sail downwind to the start area the race officer started our first race of two. Most of the boats piled into a boat-favoured line which led to a contested drag race up the first beat. Boats that managed to stick this out benefited from a first left shift coming down. Brendan Lynch and Ellen Clark finished first shortly followed by Chris and Nicki Webber.
By the second race the breeze was up considerably, and boats from both courses had started swimming. After a contested start and first beat, the boats flew downwind. Despite a few capsizes and several boats retiring, most of the fleet finished with Brenda and Ellen taking another race win. By this point the breeze had built considerably to survival conditions and the race officer sent the fleet in one race early.
Day two brought a similar, albeit very slightly lighter forecast. Putting on wet and cold kit firmly reminded me why some feel the sailing season ends in November. After a short postponement the race committee got on with the day's racing.
With the breeze shifting left throughout the day the pin was the place to be, and with the breeze coming over the land a lot more than the previous day there were shifts to be had. Following a good display of boat speed to come from the back, Brendan and Ellen took the win again in race four and again in five.
Race six saw the closest race of the day since with a (relatively) light first downwind leg any boat that could keep planing paid dividends. Chris and Nicki managed to just hold out their lead on Brendan and Ellen in this last race to deny them straight firsts.
Massive thank you to all the organisers of this event, and to Harken for their sponsorship.
In fact massive thank you to all the organisers and sponsors of all the events this year, and of course to Rooster for sponsoring our RS200 Rooster National Tour.
Report by James Mawson
Up on Y&Y here
Harken RS300 End of Seasons Regatta at Rutland SC 6-7 Nov 21
Saturday saw six RS300s turn up to Rutland Sailing Club. Everyone stood on the bank thinking it looks a lot more windier out on the lake than it feels on the shore and they were not wrong. The forecast looked liked it was going to be right 20+ knots gusting 35. We headed off to the dam side of the lake to do a trapezoid course with the RS200 and RS Vareos going first start. Everyone lined up to the start sharing it with the RS600s and plenty of room was given whilst everyone appreciated the conditions. The end of the first beat saw Harry McVicar and Peter Mackin lead the fleet around with Sam Davy and Matthew Pedlow a little bit further behind. The first reach went ahead with no dramas until Sam and Matthew round the 2nd mark and before them was all carnage on the run. With both Harry, Peter, multiple RS Varoes and RS600s already upside down in hope and fear. Sadly Peter Mackin did not recover from his capsize and decided to call it a day. No one made it down the first run without a little bit of swimming. At the final mark it was Harry followed by Matthew and then Steven Harvey. Around we went again for another lap this time Steven went for a big swim on the run and decided the conditions were the better of him and headed in. So Harry, Matthew, Sam and Rob Ford were the four finishers.
Race two: again no-one was too keen to push things at the start and off we headed up the beat. Aas we went we had the feeling that things were getting really windy. Harry and Matthew led with Sam and Rob pretty close behind at the windward mark. The next downwind leg was total chaos. Everyone at some point led and at some point went "oh no, I'm not, I'm swimming" so by the time we got to the final mark it was Harry followed by Rob, then Sam, then Matthew. Up the beat heading for the 2nd lap we watched as Harry, pushing at the front, blew his mast track off and that was his day over. Rob took the lead and was then wiped flat whilst trying to complete a tack and decided his day was done. Sam then led, continuing up the beat looking at Matthew and thinking this is enough now, but as Matthew tacked towards the windward mark Sam thought no I'd best go with him. Matthew led at the windward mark and reach mark to then bear away dead downwind and have many a capsize. Sam thought no to that and went on a big zigzag downwind tacking round every time. By the final mark there was still not a lot of distance in it. Another beat Matthew took a bit more of a lead. Sam capsized on the first reach and was very relieved when the rescue boat came over and informed him they had taken a finish and to head in. Matthew went on to complete the lap and take the finish line.
Sunday was just as WINDY!
A gentleman's agreement was made and everyone decided that they would reef their sails. All apart from one: Josh Wilce who hadn't sailed on the Saturday. A lot of pre rigging was carried out whilst everyone decided which was the best way to go about reefing. It was not unnoticed by the rest of the dinghy park and a few RS600s thought good idea. Again six boats sailed out to the start line in the same area and the same course, but this time the wind had swung more Westerly. There was a postponement while the race committee adjusted the course. This gave everyone the chance to try beating and sailing with the reefed sail. The first race got away with everything still very close at the windward mark but again the first run proved very challenging and even with reefs most people had a capsize. Peter Mackin decided to call it a day. By the time the 2nd lap came around the rest had got use to their new sail settings and a bit more calm order ensued. The race finished with Harry, Matthew, Josh, Sam then Rob.
Race four started with as much the same wind of the weekend but as the race went on it dropped a little and everyone started looking at their reefs thinking hmmm should I. But they just let a lot more control lines off. It was close race with a lot more jostling of positions and resulted in Harry winning from Matthew then Rob, Josh and Sam.
The last race of the weekend started with another drop in the wind. As the last minute of the start count down started a big wind shift meant a big port bias at the pin end of the line. Matthew and Josh were winners whilst those at the committee boat end suffered. Harry, Rob and Sam had it all to do. For the first half of the race the wind stayed calmer until it built up to the strongest of the day. Everyone felt exhausted and was glad to make it round. The race finished once again with Harry, Josh, Matthew, Rob, Sam. So it's congratulations to Harry our RS300 End of Seasons winner for 2021 who won a Harken voucher with his prize glass. Rooster National Tour caps were awarded to Sam Davy for Endeavour prize and Rob Ford for mid-fleet hero.
At prize giving the Race officer commented was that he was very pleased that as a fleet we had taken steps to be able to sail for the day. It had made their hard work in organising and arranging all the volunteers worthwhile in very challenging conditions. Thank you very much to Rutland Sailing Club for hosting us so well in such strong wind. Thank you to Harken for sponsoring the RS End of Seasons Regatta.
It was then the prize giving for the RS300 Rooster National Tour. Five events were raced with three to count. The top five sailors won vouchers generously donated by Rooster. Congratulations to our 2021 RS300 Rooster National Tour winner Matt Pedlow!
RS300 Rooster National Tour:
1st Matt Pedlow
2nd Sam Davy
3rd Pete Mackin
4th Tom Moore
5th Ben Heppenstall
Report by Sam Davy
Up on Y&Y here
Harken RS400 End of Seasons Regatta at Rutland SC 6-7 Nov 21
The weather forecast did not discourage those who entered, but standing on the balcony and looking at the white caps highlighted in the black streaks that covered the water there was much trepidation.
Day one had a run to the start in a strong South Westerly which gave the opportunity to practice strong wind gybes and, for a few unfortunates, capsize drill. A closely packed start set the tone for the first beat, and downwind being in the right place for the monster "ladder" gusts coming down the water could take you up several places as long as you could get through the gybe.
The wind increased further for the second start now at the strength where occasional dumps of the jib were required to stay upright going upwind. This didn't stop the racing being very close, and included some fantastic downwind blasts.
Mike Sims sailing with Jack Holden topped the leaderboard after the first day with two firsts, Steve and Sarah Cockerill next with two seconds. Perhaps the performance of the day was from the Pink Panther (Andy Powell and Geoff Camm), slinking about at the front end of the fleet in the second race obviously enjoying the conditions. No-one was heard complaining about the excellent Race officer signalling the end of racing for the day.
Day two had a change of location into the Southern leg of the lake due to the wind swinging more to the West, but the gusts were still very much in evidence. The wind at one point increased to more than the leeward gate mark could handle; fortunately the fleet was well versed in what to do in this situation after the Nationals. Racing for the top three positions was still exceptionally close: the final beat of the second race saw second closely covering third, and in turn being covered by first. The Cockerills spotted their chance near the windward mark and managed to sail out from under Simms and Holden into a lead to the finish, setting up a tie for the final race.
Conditions went a bit strange for the finale, with the wind backing and dropping. The Cockerills got to the windward mark first, and after swigging some "Felix Felicis" (liquid luck), caught a Harry Potter gust which carried them off into the distance.
Despite the conditions the RS400s were noticeably sustaining the largest amount of finishers, so congratulations to all and hope recovery is quick!
The Cockerills won the event by a point, impressively being the only team (I think) to stay upright. Mike and Jack were comfortably second, then it was Jon Heissig and Nicky Griffin in third just staying ahead of Chris Eames and Rachel Tilley and Teams Warsash (Matt and Ellie Sheahan, then Andy Powell and Geoff Camm). Tim and James Le Coulliard won the tie-break for the Endeavour Prize despite a final race charge. Thank you to our event sponsor Harken. First to third places were lucky enough to win Harken vouchers in addition to their prize glasses.
It was then the prize giving for the RS400 Rooster National Tour. Six events were raced with three to count. The top five sailors won vouchers generously donated by Rooster. Congratulations to our 2021 RS400 Rooster National Tour winners Mike Sims and Mark Lunn/Jack Holden!
RS400 Rooster National Tour:
1st Mike Sims and Mark Lunn/Jack Holden
2nd Ollie Groves and Sam Waller
3rd Chris Pickles and Matt Sharman
4th Wayne Fletcher and Mike Saul/Martin Cooper
5th Peter Snowdon and Louise Carr
Many thanks to the Rutland race team and safety boats. We look forward to returning to battle it out again at the 2022 RS400 End of Seasons Regatta 5-6 Nov 2022.
Report by Jon Heissig
Up on Y&Y here
Harken RS500 End of Seasons Regatta at Rutland SC 6-7 Nov 21
Epic, Breezy, Blustery, Gusty, Challenging - any one of those words could be used to describe this event! After two ultra light events everyone was hoping for a bit of breeze – just not this much!!
I will start by saying that six boats made the start of this event but in truth between the boats that were late and those that hadn't noted the shortened start sequence in the sailing instructions there were only three boats actually on the start line for the first race. Peter and James Curtis disappeared off to take an unchallenged win with Hugh and Luke Watson doing their best to keep the late starting Simon Horsfield and Katie Burridge at bay.
Race two and the wind had further increased with some huge gusts piling through. Again Team Curtis sped off, but this time Mike Saul and Ollie Kent were able to show their pace and were hot on their heels at the first mark. However both Team Curtis, and Saul and Kent capsized on the run allowing Horsfield and Burridge to keep things tight despite dropping the spinnaker and tacking around. By the final run the fleet had stretched out again. Team Curtis, and Saul and Kent again capsized leading to a grandstand finish between four boats. As these two teams recovered Horsfield and Burridge were flying in from the left but still needed to gybe around the gate and Team Watson were charging straight to the mark having successfully played chicken with the shore to ensure only one gybe was required. In the end Horsfield and Burridge nailed the gybe to take the win from Team Curtis with the Watsons being flattened by a gust as they crossed the line but somehow still claiming third.
By now it was seriously windy with huge gusts and there were no complaints when the race officer said that was enough for the day.
The forecast for Sunday hadn't promised any respite for tired bodies and so it proved as it was again extremely windy. The direction was a little kinder meaning the gusts were not quite as vicious but the squalls which came through led to some fantastic downwind action allowing the RS500 to show just how fast it can go (18.6 knots recorded). The racing followed a familiar pattern with Team Curtis showing great speed upwind but having a tendency to capsize whilst impressively Horsfield and Burridge didn't capsize in any of the races over the weekend. This meant that Horsfield and Burridge went into the final race with a 3,1,1,2 score against the Curtis 1,2,2,1. All to play for!
For the final race the wind dropped off slightly but compensated by becoming a little more erratic just to keep everyone on their toes. Saul and Kent won the race with Horsfield and Burridge claiming the overall win on countback by finishing 2nd.
Thank you to Rutland Sailing Club for providing great racing in high winds. We look forward to returning to battle it out again at the 2022 RS500 End of Seasons Regatta 5-6 Nov 2022. Thanks to Harken for sponsoring the event.
On shore it was agreed that "epic" was probably the best word to decide the weekend and that the RS500 fleet had done a good job of showing off this fantastic boat to the rest of the RS classes. With a group of competitive sailors already established in the fleet and the Worlds at the RS Games at WPNSA next Summer there has never been a better time to join the UK RS500 fleet.
Report by Hugh Watson
Up on Y&Y here
Harken RS600 End of Seasons Regatta at Rutland SC 6-7 Nov 21
The forecast predicted strong winds but a pleasant morning greeted the fleet making rigging a pleasure.
Race one: George Smith immediately showed his intent getting away to a great start with Jamie Mawson in hot pursuit. Behind the front two, as the wind built Scott Holland showed some amazing bursts of speed only to fall back again. Regular place changing meant the boat making fewest mistakes profited. Mike Iszatt gained a narrow third place ahead of Ian Marshall and Scott Holland.
Despite the wind now up to consistent 30 knots the fleet got off to a good start, yet again George and Jamie lead the way. The sailing was spectacular with all the competitors gybing and tacking in clouds of spray, with surprisingly few spills. However attrition started to thin out the chasing pack, the most noticeable being Simon Hibbert who was catapulted spectacularly through the air and straight through his mainsail whilst travelling at full speed on a broad reach. Others decided that discretion was the order of the day. Both George and Jamie capsized on the run. George recovered quickly to sail onto win, while Jamie was concentrating so hard that he missed the finish line and proceeded to sail an extra lap, handing Mike Iszatt second place.
The forecast for the second day's sailing was similar to the first resulting in Ian Marshall and Mike Iszatt deciding to race with reefed sails, as did most of the RS300 fleet with whom they shared the course.
The strong winds however did not materialise. Yet again George and Jamie soon worked their way into a commanding position. Out of nowhere on the first run a squall hit the following pack, capsizing them all apart from Mike. This enabled Mike to hang onto third from a rapidly catching pack of boats with full sails.
Throughout race four the wind continued to drop. George got away from the fleet with his trademark upwind speed being hotly pursued by Jamie. Simon Hibbert was finally starting to get it right and with Jamie having rigging trouble, which made tacking difficult, he swept into second place. In the falling wind Matt Potter, gybing regularly to catch the odd gusts, skilfully worked his way into fourth.
The final race started in light fluky winds. George broke his stainless steel trapeze fitting forcing him to retire. With wind coming from all directions Jamie played the shifts well to gain a commanding lead. Then the forecast winds finally started to fill in. Matt and Simon did some amazing sailing, alternating from making silly mistakes to getting it right with places changing regularly. Matt managed to squeeze Simon out at the finish winning by a few seconds.
Well done to George Smith our RS600 End of Seasons winner for 2021 who won a Harken voucher with his prize glass. Thank you to Harken for sponsoring the RS End of Seasons Regatta. Overall it was an easy victory for George, with Jamie Mawson clear second from Mike Iszatt in third. The Notts County Sailing Club boys of Simon Hibbert and Matt Potter got better as the weekend progressed coming in fourth and fifth. Ian Marshall got a year's worth of bad luck over and done with so next year should be good for him.
It was then the prize giving for the RS600 Rooster National Tour. Four events were raced with three to count. The top five sailors won vouchers generously donated by Rooster. Congratulations to our 2021 RS600 Rooster National Tour winner George Smith!
RS600 Rooster National Tour:
1st George Smith
2nd Jamie Mawson
3rd Mike Iszatt
4th Simon Hibbert
5th Matt Potter
Thank you to Rutland Sailing Club for such a well-run operation. We look forward to returning to battle it out at the 2022 RS End of Seasons Regatta 5-6 Nov 2022.
Report by Mike Iszatt
Up on Y&Y here
Harken RS800 End of Seasons Regatta at Rutland SC 6-7 Nov 21
It's not often that you get to race an RS800 in 30 knot gusts, so we should probably consider ourselves lucky to have had the opportunity twice in consecutive events. The forecast of 22-30 knots each day probably put a few people off going to Rutland for the Harken RS End of Seasons event, including class chairman Dan Goodman (who therefore missed his own surprise 50th birthday party - oops). But for those who made it, the wind gods delivered on the forecasters' promise which made for an exciting weekend of sailing and swimming.
Somehow, despite being Britain's largest man-made lake (allegedly), Rutland is surprisingly narrow. Particularly on Sunday when racing in a Westerly wind up the Southern leg of the lake felt like being on an America's Cup course, with boundaries forcing several tacks and gybes on every leg.
The fleet was rather starkly divided into those who'd had a good bit of breezy practice through the Nationals and then the Inlands, and a few brave / innocent new faces who were trying out RS800 racing (or even trapezing) for the first time. Regardless of prior experience we all had fun, all capsized and as far as we know, no RS800s or their sailors were harmed in the making of this event, thanks in no small part to the race team's wise decision not to run a third race on Saturday. On Saturday night the whole RS800 fleet had a very convivial evening in the bar, re-living the joys of choosing which pair of inverted RS400s to gybe between.
National champions Tom Morris and Guy Fillmore once again showed us how windy weather skiff sailing should be done, leading at every mark rounding of every race bar one. For the first time in their RS800 sailing careers they were eligible for the traditional Endeavour prize for the last placed boat to finish all the races, despite also winning them all. Their other claim to fame for the weekend was leading the way after the first race on Saturday to what became known as "Serenity Bay", a small patch of apparently flat calm water in the lee of the clump of trees on Rutland's big headland. More and more boats were tempted to join them, drawn like moths to a flame as we saw G&T drifting about in sunshine and no wind, while the rest of the lake was a maelstrom of whitecaps and upturned hulls. Only when we got to the bay did we discover that vertical tornado gusts of monumental intensity would indiscriminately flatten three or four boats at a time while leaving others only a boat-length away unscathed, their crews laughing at the fate of their neighbours before they too got nailed.
When the racing resumed it became apparent that Hugh Shone and Fiona Hampshire were by a good margin the best of the rest of us, counting straight second places through the weekend and demonstrating a remarkable ability to stay dry while all around were upside down – helped by their prudence in keeping the kite in the bag when the gusts had wiped out everyone behind. The finishing order behind them largely depended on how many races each team managed to complete: Luke and Emma McEwen (four finishes), Cameron and Darrol Moss (two finishes) and Fred Lord and Louise Gale (one finish). Thank you very much to Rutland SC for running such great racing. Thank you to Harken for sponsoring the event. We look forward to returning to battle it out again at the 2022 RS800 End of Seasons Regatta 5-6 Nov 2022.
The End of Seasons was, of course, the final event in the Rooster National Tour for all RS classes present with the top placed sailors taking home Rooster vouchers (thank you Rooster). Our wonderful RS Class Association Secretary Clare Sargent broke her own impressive record in giving out about fifty thousand prizes in half an hour or so. For the RS800s this event was the decider for the overall series winner: Tom and Guy equalled Luke and Emma's event tally of 1,1,2 to count, so won the tie break as winners of the last event. Congratulations to Tom and Guy for such an impressive end to the 2021 season, and to all the RS800 sailors who made it onto the water this weekend. We had 32 boats and 71 sailors on this year's tour. Let's try to get even more in 2022!
Report by Luke McEwen
Up on Y&Y here
Harken RS Vareo End of Seasons Regatta at Rutland SC 6-7 Nov 21
Six RS Vareos travelled to Rutland Sailing Club to join club member Martin Dyer for the Harken RS End of Season Regatta. A strong forecast of 18mph gusting to 30+ saw Mike Dicker and Paul North rig with the storm sail, a decision they found to be a very good one within minutes of leaving the beach for the long sail downwind to the start at the Eastern end of Rutland Water. With the wind pretty much right behind us this was fast and only three of the fleet of seven attempted using the spinnaker. After capsizing more than once Martin decided the conditions were too much and returned to the beach. And then there were six.

Our course was the Outer Trapezoid, meaning a beat to mark one followed by a beam reach across to two, downwind to three then up and down between two and three a couple of times before another reach across to four then a short beat to the finish. We were starting with the RS200s and followed after 3 minutes by the combined RS300s and RS600s.

A significant chop and very blustery conditions meant an uncomfortable wait for the start with a real challenge keeping the boat stable but without flogging the sail. We were glad (if not personally a little trepidatious) to hear the warning signal.

A quick 3, 2, 1 start and we were away. Ken Ward had a near perfect first leg with Luke Fisher close behind. Nick Crickmore had a terrible start stuck in the dirty air behind a group of RS200s, but by staying left he found a good lift and closed the gap on Luke and Ken. Paul, Mike and Chris Abbot found the going tough and were all trying to find the best way to keep the boat moving against the very strong wind and heavy chop.

On the downwind leg Ken, Luke and Nick all popped up the kites while a little way behind the three of us at the back looked on in awe and knew ours were staying in the chute! Luke got past Ken just before the leeward mark and led back up the beat. Nick was finding that loose toe straps were hampering his hiking upwind but was finding good speed downwind. Paul was chasing Chris up the beats but losing out on the downwind legs where Chris was finding deeper angles and his bigger rig was giving him more speed. Meanwhile Mike suffered a failure with the top of his dagger board that meant it was trying to disappear through the slot and out the bottom, this led to his retirement. And then there were five.

On the second downwind leg Luke decided he had enough of a lead to keep the kite safely stowed while Nick and Ken both launched theirs behind. Bouncing over the top of the waves Ken, in his words, "stuffed it in" and his day was done. And then there were four.

Chris suffered a capsize at the windward mark on lap three allowing Paul to pass. Paul just survived a very scary nose dive on the downwind leg which produced a foot deep wave that ran through the boat nearly taking him out with it. Final positions: Luke, Nick, Paul, Chris.

If the anything the wind was increasing a little as race two got underway. It was more a case of spotting the lulls than the gusts, which seemed to last five minutes or more. Luke had a good start at the committee boat with Nick not too far behind. With Luke pulling away upwind but Nick finding more speed downwind they were always close at the leeward mark (in Nick's words "close enough to shout nonsense at him"). Nick did manage to gybe on one lap but mostly they "weathered around".

Caught among some of the other fleets Chris capsized and the boat quickly turtled and stubbornly refused to right in the strong wind requiring the safety boat to help him get back upright. And then there were three.

Once again in third, Paul was just about hanging on downwind with the acceleration from the gusts proving to be "exhilarating" when his main halyard let go ending his day with a swim and a tow home. And then there were two. Luke first, Nick second.
We're guessing a similar rate of attrition was happening in the other fleets and the third race was cancelled.

It had been a challenging afternoon so there was much to talk about back on shore after a VERY long beat (or tow) back. It was generally agreed that the broad reach at the end of the course was the most difficult in the conditions. Nick tried the technique of ramming the tiller over and going head to wind to kill off the speed before going again (apparently singing as well).

Arriving on Sunday morning to a similar forecast and the information that chop would be bigger and "sharper" the fleet unanimously decided enough was enough and plumped for an early prize giving. Thank you to our event sponsor Harken. Final result 1st: Luke, 2nd: Nick, 3rd: Paul, 4th: Chris. Well done to Luke who was lucky enough to win a Harken voucher in addition to his prize glass. Rooster RS Vareo National Tour caps were awarded to Chris, Ken and Martin.

Thanks to the Rutland Sailing Club's Race Officers and particularly the safety crews who were kept busy. We look forward to returning to battle it out again at the 2022 RS Vareo End of Seasons Regatta 5-6 Nov 2022. Thanks also to Clare and the RS Association for all their help and support.

This event concluded the Rooster National Tour for the RS Vareos. Taking the best three results out of the six on our tour our top five sailors, each taking home Rooster vouchers (thank you Rooster) are:
1st Luke Fisher
2nd Richard Woods
3rd Nick Crickmore
4th Chris Abbott
5th Paul North
Congratulations to Luke Fisher our 2021 RS Vareo Rooster National Tour champion!

It was great to see 20 competitors in this year's tour results. Let's try to get even more in 2022!
Report by Paul North
Up on Y&Y here
RS EOS
Results are final as of 16:02 on November 7, 2021
RS200 Fleet

Sailed: 5, Discards: 1, To count: 4, Entries: 7, Scoring system: Appendix A

Rank
SailNo
Class
Club
HelmName
CrewName
Race 1
Race 2
Race 3
Race 4
Race 5
Total
Nett
1st
1510
RS200
East Lothian YC
Brendan Lynch
Ellen Clark
1
1
1
1
-2
6
4
2nd
16
RS200
Pevensey Bay SC
Chris Webber
Nicki Webber
-2
2
2
2
1
9
7
3rd
211
RS200
Weir Wood SC
James Morson
Fiona Harrington
-7
4
3
3
4
21
14
4th
1452
RS200
Upton Warren SC
Alistair Hodgson
Ella Spain
3
3
4
-5
5
20
15
5th
1263
RS200
Hunts SC
Paris Thomas
Marta Unico Ribera
-5
5
5
4
3
22
17
6th
728
RS200
Leigh & Lowton SC
Adam Catlow
Martyn Catlow
6
(8.0 DNF)
6
6
6
32
24
7th
629
RS200
Lymington Town SC
Rob Henderson
Alice Markham
4
(8.0 DNC)
8.0 DNC
8.0 DNC
8.0 DNC
36
28
RS300 Fleet

Sailed: 5, Discards: 1, To count: 4, Entries: 7, Scoring system: Appendix A

Rank
SailNo
Class
Club
HelmName
CrewName
Race 1
Race 2
Race 3
Race 4
Race 5
Total
Nett
1st
523
RS300
Draycote Water SC
Harry McVicar
1
(8.0 DNC)
1
1
1
12
4
2nd
451
RS300
Stewartby Water SC
Matthew Pedlow
2
1
2
2
-3
10
7
3rd
457
RS300
Hykeham SC
Sam Davy
3
2
4
-5
5
19
14
4th
351
RS300
Alton Water SC
Rob Ford
4
(8.0 DNC)
5
3
4
24
16
5th
512
RS300
Rutland SC
Josh Wilce
(8.0 DNC)
8.0 DNC
3
4
2
25
17
6th
320
RS300
Draycote Water SC
Steve Harvey
(8.0 DNC)
8.0 DNC
8.0 DNC
8.0 DNC
8.0 DNC
40
32
6th
556
RS300
Stokes Bay SC
Peter Mackin
(8.0 DNC)
8.0 DNC
8.0 RET
8.0 DNC
8.0 DNC
40
32
RS600 Fleet

Sailed: 5, Discards: 1, To count: 4, Entries: 8, Scoring system: Appendix A

Rank
SailNo
Class
Club
HelmName
CrewName
Race 1
Race 2
Race 3
Race 4
Race 5
Total
Nett
1st
988
RS600
Bough Beech/Medway YC
George Smith
1
1
1
1
(9.0 DNC)
13
4
2nd
1001
RS600
Notts County SC
Jamie Mawson
2
-3
2
3
1
11
8
3rd
951
RS600
King George SC
Michael Iszatt
3
2
3
-5
4
17
12
4th
885
RS600
Notts County SC
Simon Hibbert
(9.0 DNC)
9.0 DNC
4
2
3
27
18
5th
907
RS600
Notts County SC
Matt Potter
(9.0 DNC)
9.0 DNC
5
4
2
29
20
6th
654
RS600
Oxford SC & RAFSA
Ian Marshall
4
(9.0 DNC)
6
6
9.0 DNC
34
25
7th
918
RS600
Rutland SC
Martyn Barrett
(9.0 DNC)
9.0 DNC
9.0 DNC
9.0 DNC
9.0 DNC
45
36
7th
874
RS600
Crosby SC
Scott Holland
(9.0 DNC)
9.0 DNC
9.0 DNC
9.0 DNC
9.0 DNC
45
36
RS800 Fleet

Sailed: 5, Discards: 1, To count: 4, Entries: 8, Scoring system: Appendix A

Rank
SailNo
Class
Club
HelmName
CrewName
Race 1
Race 2
Race 3
Race 4
Race 5
Total
Nett
1st
1144
RS800
HISC
Tom Morris
Guy Fillmore
-1
1
1
1
1
5
4
2nd
1231
RS800
Swanage SC
Hugh Shone
Fiona Hampshire
2
2
2
2
(9.0 DNC)
17
8
3rd
1220
RS800
Royal Lymington YC
Luke McEwen
Emma McEwen
3
(9.0 DNC)
3
3
2
20
11
4th
1232
RS800
Lyme Regis SC
Cameron Moss
Darrol Moss
4
3
(9.0 DNC)
9.0 DNC
9.0 DNC
34
25
5th
1224
RS800
Carsington SC
Fred Lord
Louise Gale
5
(9.0 DNC)
9.0 DNC
9.0 DNC
9.0 DNC
41
32
6th
1188
RS800
QMSC
Debbie Clark
Daniel Goodman
(9.0 DNC)
9.0 DNC
9.0 DNC
9.0 DNC
9.0 DNC
45
36
6th
1014
RS800
Rutland SC
Bryn Abendstern
Sam McKay
(9.0 DNC)
9.0 DNC
9.0 DNC
9.0 DNC
9.0 DNC
45
36
6th
1122
RS800
Grafham Water SC
Robert Loverage
Dominick Burke
(9.0 DNC)
9.0 DNC
9.0 DNC
9.0 DNC
9.0 DNC
45
36
RS400 Fleet

Sailed: 5, Discards: 1, To count: 4, Entries: 15, Scoring system: Appendix A

Rank
SailNo
Class
Club
HelmName
CrewName
Race 1
Race 2
Race 3
Race 4
Race 5
Total
Nett
1st
1515
RS400
Stokes Bay SC
Stephen Cockerill
Sarah Cockerill
-2
2
1
1
1
7
5
2nd
1505
RS400
Arun YC
Michael Sims
Jack Holden
1
1
-2
2
2
8
6
3rd
1502
RS400
Llangorse SC
Jon Heissig
Nicky Griffin
3
-4
3
3
4
17
13
4th
1292
RS400
QMSC
Christopher Eames
Rachel Tilley
4
3
5
(16.0 DNC)
3
31
15
5th
1435
RS400
Warsash SC
Matt Sheahan
Ellie Sheahan
-9
7
4
5
7
32
23
6th
1520
RS400
Warsash SC
Andy Powell
Geoff Camm
-12
5
6
6
8
37
25
7th
1280
RS400
Chew Valley SC
Stewart Brown
Joe Hartigan
10
(16.0 DNC)
8
4
6
44
28
8th
880
RS400
King George SC
Tim Le Couilliard
James Le Couilliard
(16.0 DNF)
9
7
7
5
44
28
9th
1340
RS400
Banbury SC
Stuart Harris
Julian Lloyd
6
6
9
(16.0 DNC)
16.0 DNC
53
37
10th
971
RS400
Grafham Water SC
Simon Kitchen
Abbi Hooper
5
8
(16.0 DNC)
16.0 DNC
16.0 DNC
61
45
11th
1263
RS400
Wimbleball SC
Dave Stockton
Sophie Stockton
7
10
(16.0 DNC)
16.0 DNC
16.0 DNC
65
49
12th
1516
RS400
Notts County SC
John Hobson
Matt Reynolds
8
(16.0 DNC)
16.0 DNC
16.0 DNC
16.0 DNC
72
56
13th
854
RS400
RORC/RHYC
Chris Brown
Steve Carver
11
(16.0 DNC)
16.0 DNC
16.0 DNC
16.0 DNC
75
59
14th
1408
RS400
RYA
Nick Charles
Simon Charles
(16.0 DNC)
16.0 DNC
16.0 DNC
16.0 DNC
16.0 DNC
80
64
14th
465
RS400
Eastbourne Sovereign SC
Piers Shoesmith
Niall Schiess
(16.0 DNC)
16.0 OCS
16.0 DNC
16.0 DNC
16.0 DNC
80
64
RS500 Fleet

Sailed: 5, Discards: 1, To count: 4, Entries: 6, Scoring system: Appendix A

Rank
SailNo
Class
Club
HelmName
CrewName
Race 1
Race 2
Race 3
Race 4
Race 5
Total
Nett
1st
710
RS500
ASA Thorney Island SC
Simon Horsfield
Katie Burridge
-3
1
1
2
2
9
6
2nd
1681
RS500
Grafham Water SC
Peter Curtis
James Curtis
1
2
2
1
-3
9
6
3rd
688
RS500
Emsworth SC
Hugh Watson
Luke Watson
2
3
3
3
(7.0 DNC)
18
11
4th
1689
RS500
Yorkshire Dales SC
Mike Saul
Oliver Kent
-4
4
4
4
1
17
13
5th
610
RS500
Burghfield SC
John Cooper
Andy Maw
5
(7.0 DNC)
7.0 DNC
7.0 DNC
7.0 DNC
33
26
6th
783
RS500
Draycote Water SC
Nigel Davis
Aaron Davis
(7.0 DNC)
7.0 DNC
7.0 DNC
7.0 DNC
7.0 DNC
35
28
RSVareo Fleet

Sailed: 2, Discards: 0, To count: 2, Entries: 7, Scoring system: Appendix A

Rank
SailNo
Class
Club
HelmName
CrewName
Race 1
Race 2
Total
Nett
1st
407
RSVareo
Emberton Park SC
Luke Fisher
1
1
2
2
2nd
162
RSVareo
Waveney & Oulton Broad YC
Nicholas Crickmore
2
2
4
4
3rd
443
RSVareo
Milton Keynes SC
Paul North
3
8.0 DNC
11
11
4th
649
RSVareo
The Nottingham SC
Christopher Abbott
4
8.0 DNC
12
12
5th
539
RSVareo
Dell Quay
Mike Dicker
8.0 DNC
8.0 DNC
16
16
5th
369
RSVareo
Rutland SC
Martin Dyer
8.0 DNC
8.0 DNC
16
16
5th
572
RSVareo
Sunderland YC
Ken Ward
8.0 DNC
8.0 DNC
16
16
Sailwave Scoring Software 2.29.0
www.sailwave.com