Results / Weston Cup Weston SC - 24/09/2022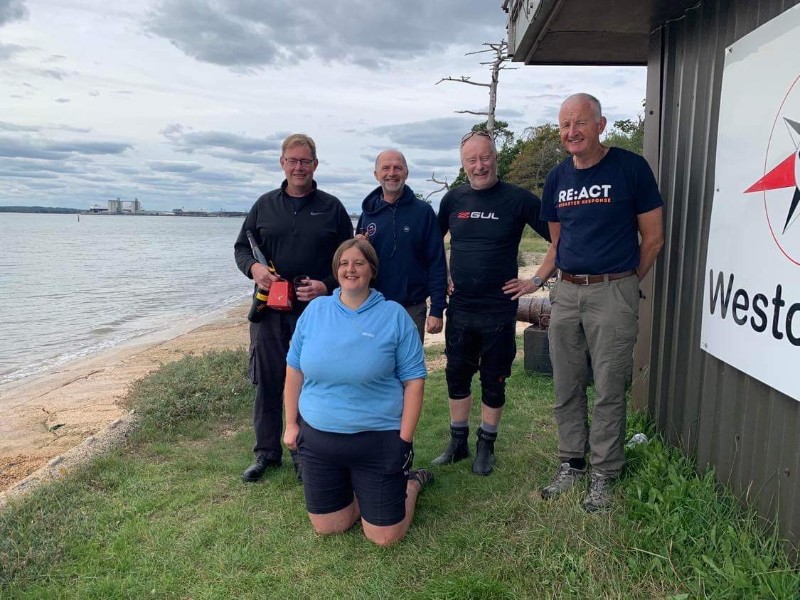 RS Vareo Invitational To Weston Sailing Club September Cup 24-25 Sept 2022
Round six of the RS Vareo Rooster National Tour 2022 saw six of us travel to Weston SC to join their September Cup for a repeat of last year's enjoyable weekend. Weston is on the banks of Southampton Water giving great sea-like conditions, plenty of open water and a start line right off the beach. Once again we were blessed with a bright weekend and decent winds although the N to NE direction gives very significant shifts, as promised by a conversation with the locals.
We were the third start in the slow handicap fleet and joined by ten locals in six different classes of boat, from an RS Aero 9 to a couple of Europes.
The course for day one was a simple triangle: a short beat/reach along the shore to a wooden post, a reach out to a yellow fixed mark then downwind to a big inflatable tetra followed by a long beat back to the line. It was an early 10am start as sailing at Weston is very tide dependent.
Luke Fisher beat the fleet to the first mark then found the reach just broad enough to hoist the kite, closely followed by Nigel Tinkler, with Paul North not far behind. As was to be the pattern for the weekend Paul was able to catch up with good downwind speed but struggled to hold on upwind. After a poor start (a common feature for his weekend) Alan Bassett got past Paul on the second lap beat to take third, with Nigel second, Luke first.
With the wind picking up it was tricky to find the right spot on the start line. Too far out and you couldn't lay the first mark, too far in and the wind shadow from the trees and swirling gusts were really unpredictable. Once again Luke found a good spot and again led at the mark followed by Nigel then Paul. With the wind having shifted quite a bit it was a close call to hoist for the reach with only half the fleet electing to do so. On lap two, Paul tried to go high then hoist but was blown over by a big gust allowing Cheryl Wood to get past. Mike Dicker was really struggling to find any speed upwind and also suffered two capsizes with the kite up. Meanwhile up at the front, Luke led the way with Alan getting past Nigel to take second.
Paul got a great start for race three rounding the first mark well clear of the fleet. With the wind swinging he elected to keep the kit down for the reach and was quickly caught by Nigel who went for the hoist. Again Paul and Nigel enjoyed some close racing as Paul could catch or pass downwind but never hold on upwind. Mike suffered a badly sprained ankle during a capsize that finished his weekend. Again showing strong upwind speed Alan came past Paul and Nigel to lead for most of the race before being pipped on the last beat by Luke with just five seconds in it at the line.
It had been a fine afternoon's racing in great, albeit shifty, conditions. Back to the beach for a beer then an early dinner at the local pub with the RS Vareo shore team of Nicki, Kay and Martin.
A bright Sunday morning welcomed the campers to another fine day with a little less wind that Saturday but rather more swell and another 10am start. A slightly revised course saw the second mark removed so that we were sailing pretty much windward leeward.
In race four Nigel and Paul were finding the going a little easier and racing closely behind Luke. Having been just beaten to the windward mark (big stick) by the Nacra catamaran, Nigel and Paul had to dodge around as it tacked and stopped dead in the water. The downwind leg was very fluky with the wind shifting around making course choice quite a challenge. Paul found a way past Nigel only to be pipped again upwind. Finish order: Luke, Nigel, Paul.
Race five saw Alan getting back into the fray after another poor start to push Nigel to the line but not quite getting past. Luke took his fifth bullet.
In the last race, Cheryl got a great start and lead the fleet round most of the first lap. Still suffering mobility issues from an injury earlier in the year she was unable to hold off downwind as Nigel liking the lightening conditions really pushed Luke. A big lull and large shift saw the fleet all come together at the final windward mark and after a nail biting final lap the final positions were Luke, Nigel, Paul, Alan, Cheryl with under a minute between each.
Many thanks to the race and safety teams and to Christine on catering. Also our big thanks as always to Rooster for their sponsorship. We're looking forward to coming back next year already. Our final event on the RS Vareo Rooster National Tour is the Harken RS End of Seasons at Rutland SC 5-6 Nov. Entry is open here
Report by Paul North
Up on Y&Y here
Happy sailor photo thanks to Nicki Fisher.
RS Vareo Invitational
Weston Sailing Club
RS Vareo Invitational - Results are final as of 15:04 on September 25, 2022
Slow Fleet Fleet

Sailed: 6, Discards: 2, To count: 4, Rating system: PY, Entries: 6, Scoring system: Appendix A

Rank
SailNo
HelmName
R1
R2
R3
R4
R5
R6
Total
Nett
1st
621
Luke Fisher
-1
-1
1
1
1
1
6
4
2nd
190
Nigel Tinkler
2
-3
-3
2
2
2
14
8
3rd
247
Alan Bassett
3
2
2
-4
3
-4
18
10
4th
443
Paul North
-4
-5
4
3
4
3
23
14
5th
660
Cheryl Wood
-5
4
-5
5
5
5
29
19
6th
346
Mike Dicker
6
6
(7.0 RET)
(7.0 DNC)
7.0 DNC
7.0 DNC
40
26