Results / Plymouth Final Fling Royal Western Yacht Club - 15/10/2022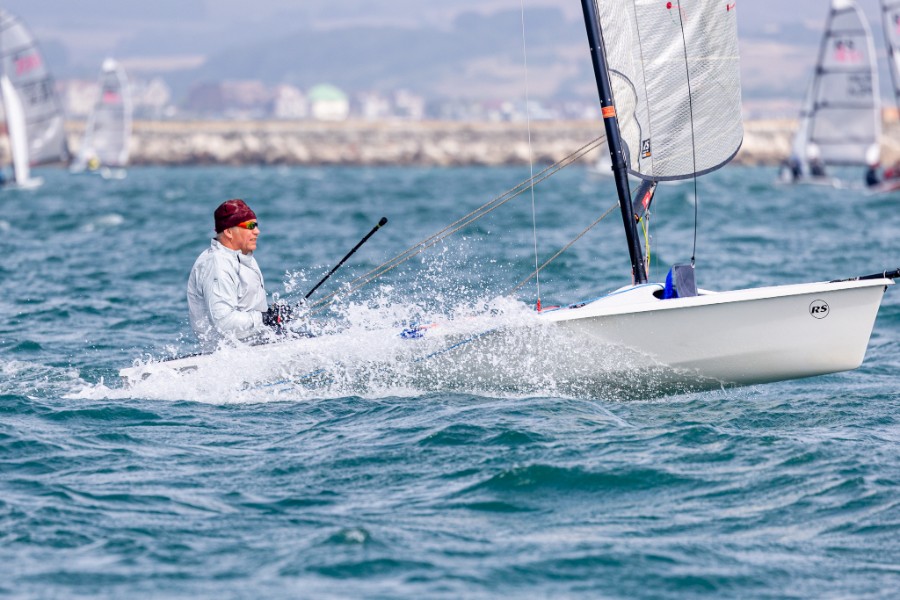 RS Vareo Rooster National Tour at Royal Western Yacht Club, Plymouth 15-16 October 2022
A lonely RS Vareo's roundup of the event!
Having booked early for Plymouth, as I was going on holiday beforehand (and I'd missed Weston), when the weather forecast for the weekend turned out to be averaging in the high 20's, gusting high 30's, (with a possible respite Sunday morning whilst the wind spun around), it was too late to cancel. Alas, I ended up being the only RS Vareo on the entry list for the Final Fling event and no local RS Vareos turned up on the day.
Saturday: the wind lived up to the forecast. With no other RS Vareos competing – I decided to stay on shore rather than breaking the boat (or myself). 25% of the dinghies couldn't get out into the estuary or capsized before they got there! A few gave up and came back in. At least a mile out to the start meant the rescue cover was busy and after one of the three races, sailing was abandoned for the day. Two dinghies needed sail repairs overnight. An SI update followed to allow four races on the Sunday if the weather held off.
Sunday: wind much less but the forecast was to rise quickly, and possibly exceed, the previous day by 1pm. First race OK for spinnaker and managed to shake off some cobwebs after not sailing for a month – 5th place in the slow fleet (Phantom and slower!). Second race wind and waves increased, but worse was the swell, so halfway through I reverted to dead run and no spinnaker – pulling away from boats around me by moving forward and surfing down the bigger waves – still not enough to make a decent finish. Whilst waiting for the 3rd race start, I could see the front coming in and those who were playing further upwind began to capsize, keeping the rescue boats busy. With a few miles of broad reach back to the Clubhouse, I decided that waiting for the wind to get up to survival mode before retiring was not a sensible option – so I started back to dry land and left the rest to enjoy the storm front. Those that stayed completed the 3rd race and the Race Officer decided against risking a 4th, so most dinghies JUST stayed in front of the worst part of the rain and wind on their way back to shore.
Considering the weather Royal Western Yacht Club managed to make the most of the weekend, getting boats back in when it started to get out of hand on both days. Although Plymouth is a long way to travel from Nottingham, I enjoyed the sailing on the Sunday - but could have done with a few more RS Vareos to have made it feel like racing!!! I'm looking forward to racing with friends at the Harken RS End of Seasons Regatta at Rutland 5-6 Nov. Entry is here
Report by Chris Abbott
Photo of Chris at the Noble Marine 2022 Nationals thanks to Digital Sailing