Results / Southern Championships (SAT ONLY for RS200 SWUT) Parkstone YC - 16/07/2022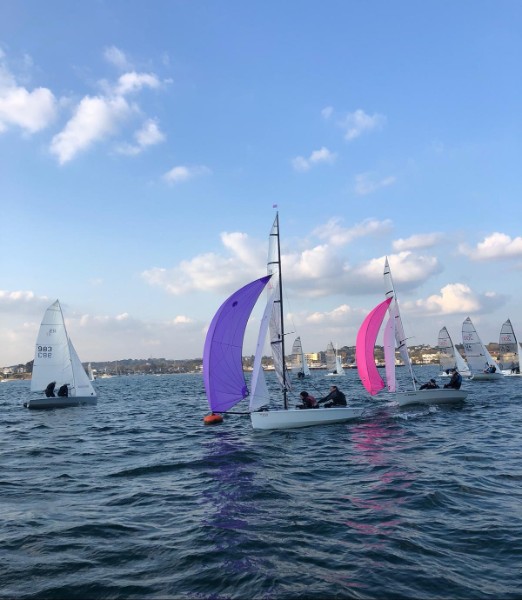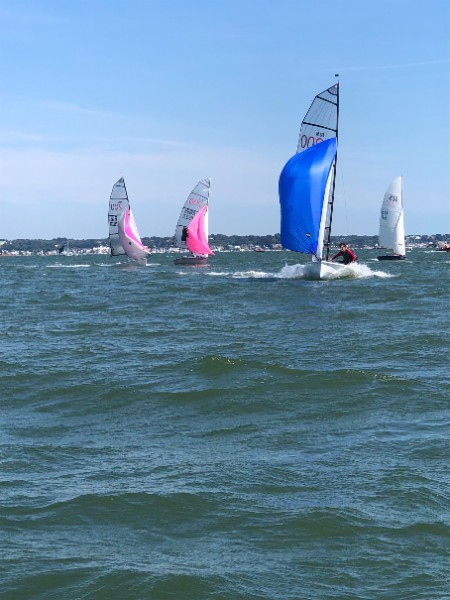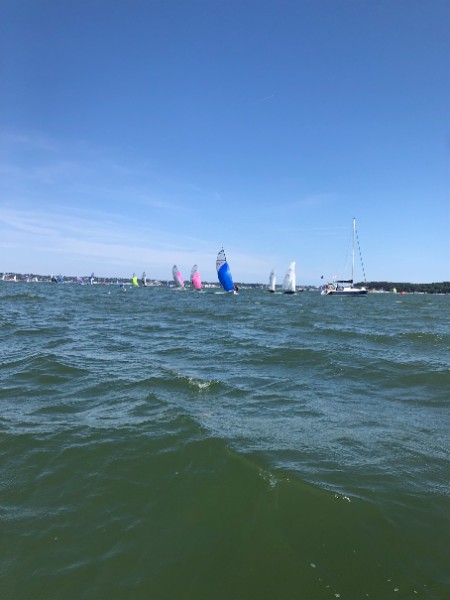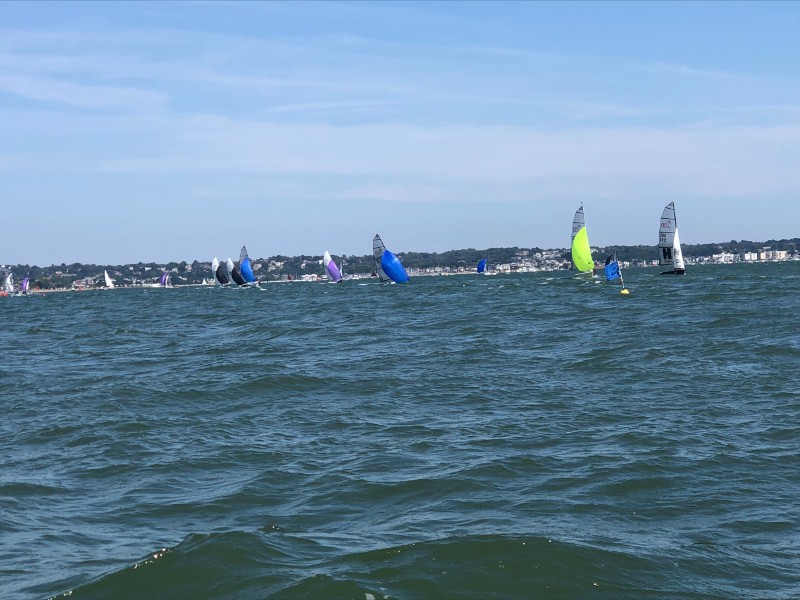 RS400 Southern Champs, Parkstone Yacht Club, July 16th/17th 2022, part of the Roosyter National Tour and Rooster West Country Boat Repairs Southern Tour
Fifteen RS400s converged on Poole harbour over a very warm weekend to enjoy the extensive facilities and top hospitality of Parkstone Yacht Club for their Southern Championships, sharing the water, boat park and bar with a large fleet of RS200s. The summer has been challenging for many travelling events, but good to see our more lightly built RS brethren bulking up once more.
The briefing was worth paying attention to with the two fleets lightly separated by a trapezoid/no trapezoid policy, inside Parkstone harbour in the lee of Brownsea Island. Four races today, two tomorrow. Tides were on our side, with most racing taking place in the region of their unique double-top high tide. Lightish airs forecast, which built gradually as the seabreeze reinforced the prevailing wind. Nice big start line, mostly square, good transits, wind funnelling between the two shallow islands, splaying out as it went downwind…building breeze with hot puffs and holes made it feel like Garda just before the Ora kicked in…what would you do?
Race one kicked off with some good upwind speed shown from many different boats old and new, Howard Farbrother and Louise Hosken (Lymington) squeaked around the windward just in front of Christopher Eames and Rachel Tilley of Queen Mary, local heroes Martin and Arun Powell, and Sam Knight/ Chris Bownes (Bartley) with the fleet bunched tightly behind. Place changing occurred, some gained, some lost, but this was the final order for race one – tick. Race two got away cleanly with again some disturbing speed from those sporting suspiciously white, old-style, supposedly redundant sails, but 134(!?!) Paul Smalley /Anna Kerslake (Chew Valley) 1267 (Hepburn/Hearn) from Parkstone clearly hadn't got the memo. Luckily for RS this didn't stand the test of a full race, and the Bartley duo of Knight/Bownes took the gun from hard-chasing Eames & Tilley, with Neil Bevington and Alan Skeens of Lee on Solent in 3rd. The wind continued to build through the day ending in a fairly solid 12-14kts, the next two races played out identically for the top four places: 1) Knight/Bownes 2) Eames/Tilley 3) Farbrother/Hosken 4) Bevington/Skeens, with the local Powell's tussling with Jack Munnelly and Trish Clancy of Arun for the next two places.
Sunday dawned, two races to go, and just a hairs breadth between the top 2 – who would win out? Race four played out with EXACTLY the same top five as races 2 and 3. Munnelly/Clancy showed the same consistent speed and form as day one on the first beat and rounded the windward mark ahead of the fleet. To secure the Champs, Eames and Tilley needed a bullet, with the Bartley boat outside the top 3. Given the shifty conditions and close sparring in the top four this could easily have happened. Final start and Knight/Bownes rounded first with Munnelly/Clancy in close pursuit, followed Eames/Tilley, Farbrother/Hosken, and Bevington/Skeens. Unfortunately for Chris and Rachel, Farbrother/Hosken then found an underemployed rabbit lurking in a disused hat and shot off downwind in their own private whirlwind, securing a substantial lead which they continued to build throughout the race, securing that rarest of things, big grins from the people who came in second – Knight and Bownes.
This left Sam Knight and Chris Bownes as worthy winners of the 2022 Southern Championships, with Chris Eames and Rachel Tilley nailed on in second, with Howard Farbrother and Louise Hosken two points adrift in third. Substantial thanks are due to a highly hospitable Parkstone Yacht Club, its tireless volunteers (and ability to produce cake), and a very solid performance from the Race Officer and his squad. Thanks also ago to our tour sponsors Rooster and West Country Boats Repairs for their continued support.
It's also sad to say that this marks the last event for our Southern Rep Trish Clancy, who is moving back to her native Ireland, where people make more sense (cough). She's added a huge amount to the RS family over the last few years and will be sadly missed.
Next up: RS Games in Weymouth before Nationals in glorious Berwick – can't wait.
Report : Howard Farbrother
Photos: Trisha Clancy
RS400 Class
| Rank | Sail Number | Helm | Crew | Club | R1 | R2 | R3 | R4 | R5 | R6 | Total | Nett |
| --- | --- | --- | --- | --- | --- | --- | --- | --- | --- | --- | --- | --- |
| 1st | 1376 | Sam Knight | Chris Bownes | Bartley SC | (4.0) | 2.0 | 1.0 | 1.0 | 1.0 | 2.0 | 11.0 | 7.0 |
| 2nd | 1528 | Christopher Eames | Rachel Tilley | Queen Mary SC | 2.0 | 1.0 | 2.0 | 2.0 | 2.0 | (3.0) | 12.0 | 9.0 |
| 3rd | 1481 | Howard Farbrother | Louise Hosken | Lymington Town Sailing Club | 1.0 | (4.0) | 3.0 | 3.0 | 3.0 | 1.0 | 15.0 | 11.0 |
| 4th | 1377 | Neil Bevington | Alan Skeens | Lee-on-Solent | (6.0) | 3.0 | 4.0 | 4.0 | 4.0 | 4.0 | 25.0 | 19.0 |
| 5th | 1509 | Jack Munnelly | Trisha Clancy | Arun YC | 5.0 | 6.0 | 6.0 | 5.0 | 5.0 | (8.0) | 35.0 | 27.0 |
| 6th | 1469 | martin powell | Arun Powell | Parkstone | 3.0 | 5.0 | 5.0 | 11.0 | (16.0 DNC) | 6.0 | 46.0 | 30.0 |
| 7th | 134 | Paul Smalley | Anna Kerslake | Chew valley lake SC | (8.0) | 7.0 | 7.0 | 6.0 | 7.0 | 5.0 | 40.0 | 32.0 |
| 8th | 1267 | Robert Hepburn | William Hearn | Parkstone YC | (9.0) | 9.0 | 9.0 | 7.0 | 6.0 | 9.0 | 49.0 | 40.0 |
| 9th | 1521 | Andy powell | Richard Ashwell | Warsash | 7.0 | 10.0 | 8.0 | 9.0 | (11.0) | 10.0 | 55.0 | 44.0 |
| 10th | 1530 | Stuart Costigan | Brett Grinnall | PYC | 13.0 | 8.0 | (16.0 RET) | 12.0 | 8.0 | 7.0 | 64.0 | 48.0 |
| 11th | 1435 | Matthew | Ellie | Warsash SC | 11.0 | (13.0) | 11.0 | 8.0 | 9.0 | 11.0 | 63.0 | 50.0 |
| 12th | 1321 | Mark Cockrill | Lizzi Blackwell | Netley SC | 10.0 | 14.0 | 12.0 | (16.0 DNC) | 12.0 | 13.0 | 77.0 | 61.0 |
| 13th | 1517 | Chris Garvey | Jim Garvey | Parkstone Yacht Club | 14.0 | 15.0 | 10.0 | 10.0 | (16.0 DNC) | 16.0 DNC | 81.0 | 65.0 |
| 14th | 1433 | Richard Hall | Alicia Andrews | PYC | 15.0 | 12.0 | (16.0 DNC) | 16.0 DNC | 10.0 | 12.0 | 81.0 | 65.0 |
| 15th | 1527 | Henry Morgan | David Morgan | Thornbury SC | 12.0 | 11.0 | 13.0 | 13.0 | (16.0 DSQ) | 16.0 DSQ | 81.0 | 65.0 |
Sailwave Scoring Software 2.29.0
www.sailwave.com