Results / RS Games Weymouth & Portland National Sailing Academy - 30/07/2022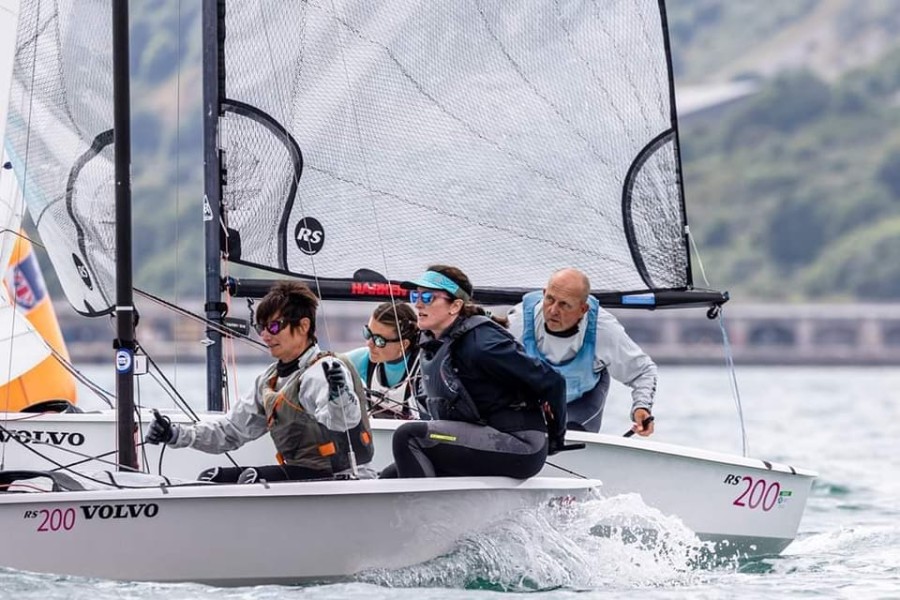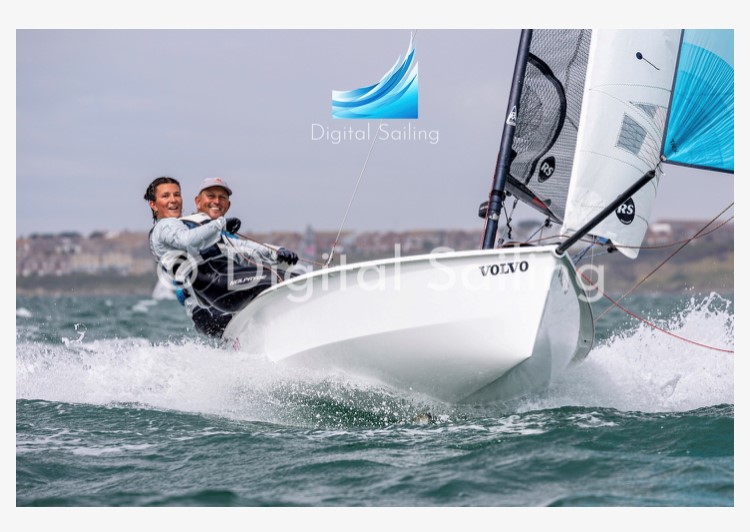 Congratulations to Tom & Lucy Hewitson, RS Games RS200 Celebration Regatta Winners!
Fantastic conditions greeted the RS200 fleet in Weymouth for their Celebratory Championships.
The RS Games staged an excellent event packed with giveaway goodies and food, a fab night of drinking and dancing and catching up with lots of old friends. The RS200's were particularly touched by the tribute to Jon Lewis. A stalwart of the 400 and 200 fleet and leaving his inspiration with so many young sailors, he is sadly missed. It was lovely to see Ellen Morley sailing his 200. Between her and mother Jo, and several other female helms including upcoming talent Millie Irish and the hugely experienced Karen Oldale, the girls gave the boys a run for their money.
Day 1 was a medium wind and very shifty. The day was won by Chris and Nicola Webber with Karen Oldale and Jo Hewitson taking line honours In Race 2.
Day 2 was hooning with all the fleet working hard to stay upright. Tom and Lucy Hewitson were super fast all day and went onto win on count back. The Webbers, Karen and Matt had very close racing to fight over the second place spots.
Race officer Brian and his excellent team where on form and produced a fantastic weekend of racing.
Jo Hewitson
Day 1 video here
Full RS Games gallery by Digital Sailing here
Get 50% off with the code RSGAMES until 20 Aug!
Follow the RS Games RS Sailing social media for all the action here
Fernhurst Books Endeavour Prize
The RS Games are brought to you by RS Sailing - follow their social media for all the action!
https://www.facebook.com/RSsailing/
RS200 Class
| Rank | Tally | Class | Country | Sail no | Helm Name | Crew Name | Helm Club | R1 - PH | R2 - PH | R3 - PH | R4 - PH | R5 - PH | R6 - PH | Total | Nett |
| --- | --- | --- | --- | --- | --- | --- | --- | --- | --- | --- | --- | --- | --- | --- | --- |
| 1 | 74 / 75 | RS200 | GBR | 1633 | Tom Hewitson | Lucy Hewitson | Hayling Island SC | 4.0 | 2.0 | 2.0 | (UFD[13.0]) | 1.0 | 1.0 | 23.0 | 10.0 |
| 2 | 102 / 103 | RS200 | GBR | 16 | Chris Webber | Nicola Webber | Pevensey Bay SC | 1.0 | 3.0 | 1.0 | (UFD[13.0]) | 3.0 | 2.0 | 23.0 | 10.0 |
| 3 | 98 / 99 | RS200 | GBR | 1625 | Karen Oldale | Jo Hewitson | Parkstone/HISC | 3.0 | 1.0 | (5.0) | 1.0 | 4.0 | 3.0 | 17.0 | 12.0 |
| 4 | 94 / 95 | RS200 | GBR | 1628 | Matt Fowler | Lynne Ratcliffe | Pevensey Bay SC | 2.0 | (4.0) | 3.0 | 2.0 | 2.0 | 4.0 | 17.0 | 13.0 |
| 5 | 90 / 91 | RS200 | GBR | 172 | Millie Irish | Joe Warwicker | Draycote Water SC | (10.0) | 5.0 | 4.0 | 3.0 | 5.0 | 5.0 | 32.0 | 22.0 |
| 6 | 92 / 93 | RS200 | GBR | 728 | Adam Catlow | Martyn Catlow | Leigh and Lowton SC | 6.0 | (8.0) | 6.0 | 4.0 | 6.0 | 7.0 | 37.0 | 29.0 |
| 7 | 82 / 83 | RS200 | GBR | 1698 | Douglas Calder | Lizzy Galloway | RNSA | (8.0) | 7.0 | 7.0 | 5.0 | 8.0 | 8.0 | 43.0 | 35.0 |
| 8 | 78 / 79 | RS200 | GBR | 556 | Harry Barker | Calum | Bowmoor | (11.0) | 9.0 | 8.0 | 7.0 | 10.0 | 6.0 | 51.0 | 40.0 |
| 9 | 100 / 101 | RS200 | GBR | 1721 | Michael Warwicker | Kate Fitzsimmons | Shoreham SC | 5.0 | 6.0 | 9.0 | 6.0 | (DNC[16.0]) | DNC[16.0] | 58.0 | 42.0 |
| 10 | 86 / 87 | RS200 | GBR | 1152 | Jo Tribe | Marcus Collingbourne | Burnham Sailing Club | 9.0 | 10.0 | (11.0) | 8.0 | 9.0 | 9.0 | 56.0 | 45.0 |
| 11 | 84 / 85 | RS200 | GBR | 1345 | Ellen Morley | Tom Mulder | Burnham Sailing Club | (DNC[16.0]) | DNC[16.0] | DNC[16.0] | 9.0 | 7.0 | 10.0 | 74.0 | 58.0 |
| 12 | 76 / 77 | RS200 | GBR | 1083 | Piers Luxford | Cat Albone | MKSC | 7.0 | 12.0 | 10.0 | DNS[13.0] | (DNC[16.0]) | DNC[16.0] | 74.0 | 58.0 |
| 13 | 70 / 71 | RS200 | GBR | 266 | Hannah Cole | Lydia Stevenson | Thorpe Bay Yacht Club | 12.0 | 11.0 | 12.0 | (DNC[16.0]) | DNC[16.0] | DNC[16.0] | 83.0 | 67.0 |
| 14 | 88 / 89 | RS200 | GBR | 689 | Victor Matthews | Guy Rivington | Hayling Island SC | (DNC[16.0]) | DNC[16.0] | DNC[16.0] | DNC[16.0] | DNC[16.0] | DNC[16.0] | 96.0 | 80.0 |
| 14 | 72 / 73 | RS200 | GBR | 1611 | Arran Holman | Tobytastic Lewis | Hollowell Sailing Club | (DNC[16.0]) | DNC[16.0] | DNC[16.0] | DNC[16.0] | DNC[16.0] | DNC[16.0] | 96.0 | 80.0 |
Scoring codes used
| Code | Description |
| --- | --- |
| DNC | Did not come to the starting area |
| DNF | Started but did not finish |
| DNS | Came to the start area but did not start |
| RET | Retired |
| UFD | U flag disqualification under rule 30.3 |
Sailwave Scoring Software 2.29.6
www.sailwave.com